An MRI administered today on Collin Sexton's injured left knee revealed that the Cavaliers guard sustained a meniscus tear, the team announced in a press release. Sexton left Cleveland's Sunday win over New York in the second quarter after feeling discomfort in the knee.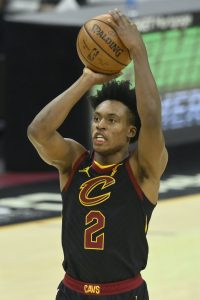 The Cavs have yet to announce a potential recovery timeline for Sexton. That will likely be determined once the club decides whether the injury will be treated surgically or non-surgically. According to the press release, the 22-year-old will undergo additional evaluation before his status is updated.
The news puts a damper on Cleveland's strong start to the season. After winning no more than 22 games in each of the last three seasons, the Cavs are off to an impressive 7-4 start in 2021/22, with youngsters like Sexton, Darius Garland, and Evan Mobley leading the way.
Sexton, the eighth overall pick in 2018, was the Cavaliers' leading scorer in each of the last two seasons, having put up a career-best 24.3 PPG in 60 games in 2020/21. He was off to a slower start this season, with his shooting line dipping to .453/.244/.744, but his 16.0 PPG still represents the highest mark on the team.
Recovery from a meniscus tear can vary from player to player depending on how the injury is treated, but it typically results in an absence of at least weeks, if not months. Hopefully we'll get clarity soon on what Sexton's timetable might look like.
With Sexton on the shelf, Cleveland figures to lean more heavily on Garland and veteran point guard Ricky Rubio, with Dylan Windler, Denzel Valentine, and Kevin Pangos among the reserves who could compete for minutes.
Sexton will be eligible for restricted free agency in 2022. The Cavs reportedly hope to sign him to a long-term deal.