6:14pm: The Bucks have officially signed Matthews and requested waivers on Kalaitzakis, the team announced. Matthews' contract is non-guaranteed, a source tells Eric Nehm of The Athletic (Twitter link).
---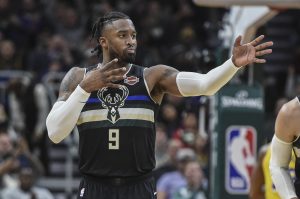 4:07pm: The Bucks are signing veteran wing Wesley Matthews and waiving rookie forward Georgios Kalaitzakis in order to create a roster spot, sources tell Shams Charania of The Athletic (Twitter links).
It's another win-now move for the defending champions, who signed center DeMarcus Cousins on Tuesday. The Bucks will be on the hook for the guaranteed portion of Kalaitzakis' salary — he has a partial guarantee of $462,629. However, he's already earned a good chunk of that amount by this point in the season, which makes it a very understandable move from both a basketball and financial perspective.
Matthews, 35, is entering his 13th season in the NBA. This will be a reunion for both player and team, as he spent the 2019/20 season with the Bucks, starting all 67 games he appeared in with averages of 7.4 PPG and 2.5 RPG on .396/.364/.765 shooting (24.4 MPG). He played for the Lakers last season, appearing in 58 contests (19.5 MPG) while averaging 4.8 PPG and 1.6 RPG on .353/.335/.854 shooting.
Matthews was a top-tier 3-and-D player in the early part of his career prior to tearing his Achilles tendon in 2015. He's never put up the same type of efficient offensive numbers since suffering the injury, but he's still regarded as a good defensive player and is a highly respected veteran. In 849 career games (739 starts), he holds career averages of 12.6 PPG, 2.9 RPG, 2.1 APG, and 1.0 SPG on .421/.379/.824 shooting.
Kalaitzakis, the 60th pick in the 2021 draft, was signed to a partially guaranteed, three-year deal ahead of his rookie season. The Greece native appeared in nine games for the Bucks for a total of 48 minutes, putting up modest stats of 1.8 PPG and 0.9 RPG in 5.3 MPG. Evidently Milwaukee did not see enough from the 22-year-0ld to justify keeping him on a standard contract.
It's very unlikely that he gets signed by a team with an open roster spot, as that list is comprised of either contending teams or teams right against the luxury tax, or both. Perhaps a two-way spot could be possible, but all 60 of those spots are taken right now, so that would require a team to waive a current two-way player. Kalaitzakis' most realistic path back to the NBA is probably through the G League, but returning to Europe could be a viable possibility, too.