10:11am: Bickerstaff's extension is now official, the Cavaliers confirmed in a press release. The team didn't announce the terms of the deal, simply referring to it as a "multiyear" extension.
---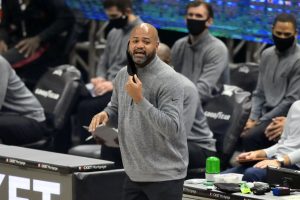 9:53am: The Cavaliers and head coach J.B. Bickerstaff have agreed to a long-term contract extension, according to ESPN's Adrian Wojnarowski, who reports that the new deal will keep Bickerstaff under team control through the 2026/27 season.
Bickerstaff took over as the Cavaliers' head coach near the end of the 2019/20 campaign, replacing John Beilein. Since then, he has led the team to a 46-69 (.400) record.
That overall record since Bickerstaff took the reins is somewhat misleading. After going 22-50 last season, the Cavs are off to a 19-13 start in 2021/22, looking as dangerous as they have since LeBron James left the franchise in 2018.
The new-look Cavaliers, led by youngsters Darius Garland, Jarrett Allen, and Evan Mobley and veteran point guard Ricky Rubio have the Eastern Conference's best defensive rating so far this season. Bickerstaff, who has previous head coaching experience in Houston and Memphis, is being rewarded for the team's turnaround.