Hawks forward Solomon Hill will miss the remainder of the 2021/22 season with a right hamstring tendon tear, the team announced on Wednesday. Hill suffered the injury on Sunday against Charlotte and a subsequent MRI revealed the tear. He will undergo surgery to repair the injury.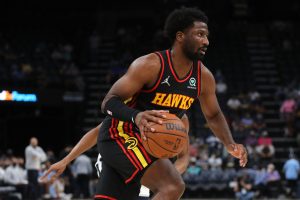 Hill, 30, has played for the Pacers, Pelicans, Grizzlies, Heat and Hawks over the course of his nine-year career. This season with the Hawks, he appeared in just 13 games (10.7 MPG), with modest averages of 0.9 PPG and 1.8 RPG. At 6'6″ and 226 pounds, Hill is primarily known as a burly defensive presence.
Hill was the No. 23 overall pick of the 2013 draft by the Pacers. Across 448 career games (189 starts), he holds averages of 5.5 PPG, 3.1 RPG, and 1.5 APG in 21.5 MPG, with a .388/.331/.797 shooting line.
Hill re-signed with the Hawks over the summer on a one-year, veteran's minimum contract. He will be an unrestricted free agent at the end of the season.
Coach Nate McMillan says Hill was a locker room leader for the Hawks, according to Sarah K. Spencer of The Atlanta Journal-Constitution.
"It's really tough," McMillan said. "Any time you lose a player for the season, it's tough, because he was not only a player that has filled roles for us, starting back last season, he's that emotional leader for us. He's been a big-time voice for us in the locker room, both on and off the floor.
"It's a real big loss for us. One of our captains on the team and just a guy that, whenever we've had injury, we've been able to plug in at the 2, 3, 4 position, whether that's coming off the bench or starting. Tough loss for us. Sorry to see that for Solo."
The Hawks have dealt with a number of injuries to wings this season. Starting small forward De'Andre Hunter had right wrist surgery in mid-November and is expected to be sidelined for several more weeks, Bogdan Bogdanovic suffered a sprained ankle, and Cam Reddish is dealing with a sprained wrist.