After getting off to a slow start this season, the Pacers have become receptive to the idea of pivoting to a rebuild and trading multiple veterans, sources tell Shams Charania and Bob Kravitz of The Athletic. According to The Athletic's duo, the team intends to be "very active" prior to the February 10 trade deadline.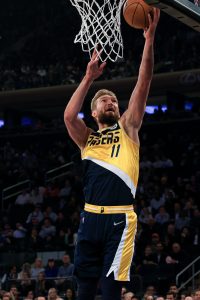 Charania and Kravitz identify swingman Caris LeVert and big men Myles Turner and Domantas Sabonis as some of the Pacers' potential trade candidates. All three players have generated "significant interest" from rival teams, per The Athletic's sources. It's unclear if Indiana would be willing to move both Turner and Sabonis or just one of the two, but Charania and Kravitz suggest a breakup of the two centers "now appears on the horizon."
T.J. Warren, who is on an expiring contract, could also theoretically be a trade chip, but he continues to recover from a foot injury and has told team management that he'd like to remain in Indianapolis, sources tell Charania and Kravitz. Malcolm Brogdon is ineligible to be traded this year after recently signing an extension.
The Pacers would like to open up more playing time for rookies Chris Duarte and Isaiah Jackson. The team raved about Jackson during the preseason and Duarte has quickly become a favorite of head coach Rick Carlisle, according to The Athletic.
Pacers owner Herb Simon, who is 87 years old, has historically resisted the idea of rebuilding due to concerns that any extended period of losing could substantially hurt attendance in one of the NBA's smaller markets. However, with the Pacers already second-last in the league in attendance this season, Simon – apparently recognizing that it can't get much worse – has become more willing to get on board with a rebuild, per Charania and Kravitz.
The Athletic's duo clarifies that the Pacers don't intend to embark on a years-long "tankathon" akin to the Sixers' "Process," but president of basketball operations Kevin Pritchard and the front office are prepared to make some major roster changes and look ahead to the future after starting the season with a 10-16 record (13th in the East).
It's worth noting that Indiana has been hurt this season by poor showings in crunch-time minutes and perhaps isn't as bad as that 10-16 record suggests. Despite missing Warren – their top scorer in the 2020 Orlando bubble – the Pacers have a positive point differential through their first 26 games. However, even with some better late-game luck and a healthy Warren, the current roster probably doesn't have the upside to legitimately contend for a title.
Rival teams aren't sure how soon the Pacers will be ready to make deals, according to Charania and Kravitz. The expectation is that the front office will exercise patience and wait for the best offers to materialize, so it's possible Indiana won't do anything major until closer to the deadline. Trade talks around the league figure to start picking up a little next Wednesday, when more than 100 players become newly trade-eligible.