2:21pm: The Pacers issued a press release confirming that McConnell underwent surgery today to repair a torn scapholunate ligament in his right wrist. According to the team, the guard will be in a cast for the next 10-to-12 weeks. Once he gets the cast off, the Pacers will provide an estimate for his recovery and return to action.
---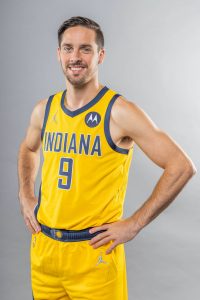 12:52pm: Pacers guard T.J. McConnell has undergone surgery to repair torn ligaments in his right hand, reports ESPN's Adrian Wojnarowski (via Twitter). According to Wojnarowski, McConnell is expected to miss several months and may not return at all this season.
McConnell has only made six starts for the Pacers in 2021/22, but he has been an important part of the team's rotation. Entering action last Wednesday, the 29-year-old had appeared in all 23 of Indiana's games and was averaging over 25 minutes per contest, with 8.7 PPG, 5.0 APG, and 1.1 SPG on 50.3% shooting.
McConnell left last Wednesday's contest vs. Atlanta after playing just three minutes, having suffered what was initially called a right wrist injury. The veteran guard received multiple opinions on how to treat the ailment and it appears he and the team ultimately decided surgery was the right path.
It's possible that McConnell's status is a factor in the Pacers' apparent willingness to pivot to a rebuild rather than continuing to push all-out for a playoff spot.
McConnell re-signed with Indiana in the offseason, agreeing to a four-year deal worth nearly $34MM. He'll become trade-eligible on January 15, but because he's unlikely to be of much use to contending teams this season, he'll likely remain with the Pacers through the February 10 deadline. If Indiana falls out of the playoff hunt, the club may focus on getting McConnell back to 100% for the start of next season, rather than trying to bring him back this spring.