The Trail Blazers have fired general manager and president of basketball operations Neil Olshey, the team announced (via Twitter).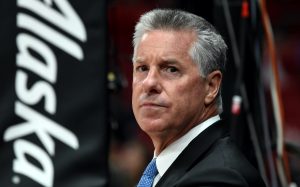 Olshey has been under a month-long investigation relating to his actions in the workplace, prompted by accusations of misconduct from at least one team employee. Workers have allegedly been subjected to "intimidation and profanity-laced tirades, among other bullying tactics" from Olshey.
The team addressed the investigation in a release announcing the move, stating that Olshey was terminated "due to violations of the Portland Trail Blazers' Code of Conduct."
"Out of respect for those who candidly participated in that privileged investigation, we will not release or discuss it," the release states. "We are confident that these changes will help build a more positive and respectful working environment."
Director of player personnel Joe Cronin will take over as interim general manager while the team searches for a permanent replacement, the release adds.
Two candidates who will likely receive consideration for the permanent job are Grizzlies VP of basketball affairs Tayshaun Prince and Spurs VP of basketball operations Brent Barry, according to Jake Fischer of Bleacher Report (Twitter link). Former Celtics executive Danny Ainge may also be in the mix, tweets Chris Mannix of Sports Illustrated.
A source tells Jason Quick of The Athletic that Olshey learned of his firing this morning (Twitter link). Olshey got no indication of the move during discussions Thursday night with vice chair Bert Kolde or team owner Jody Allen, Quick adds.
Olshey, 56, had served as Portland's general manager since 2012, but there have been rumors for some time that his job was in jeopardy. In addition to the workplace investigation, Olshey has been under fire for the team's string of first-round playoff exits and received criticism for not being more responsive about the hiring of Chauncey Billups as head coach in light of sexual assault allegations against Billups from 1997.
Several pressing issues will face Olshey's replacement, notes Bobby Marks of ESPN (Twitter link). Damian Lillard has repeatedly expressed a desire to play for a contender, and the Blazers are currently in ninth place in the West at 11-12. The organization will also have to decide whether to hold on to Robert Covington and Jusuf Nurkic, who both have expiring contracts.