The 2022 NBA All-Star Game will take place on February 20 at the Cavaliers' home arena, Rocket Mortgage FieldHouse. Will a Cavalier or two make the cut for the first time since LeBron James headed West in 2018? Time will tell, but the odds look good. The chances of a Cav earning an Eastern Conference starting spot, however, look slim.
Online fan voting started on Christmas Day, and is set to wrap up on January 22 at 11:59 p.m. ET. The first results of fan voting were announced by the NBA on January 6.
Players are separated by conference in the voting process (though not in the games), and divvied up across the frontcourt and backcourt. Fan votes will be weighed at 50% of the total vote, with 25% allocated to player voting results and an additional 25% given to journalists. Head coaches will vote for the All-Star benches after starters are announced.
Today, we'll take a look at the leaders in the clubhouse to earn an All-Star start in the Eastern Conference, in addition to making the case for a few other notable players deserving of a shot.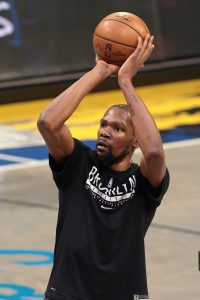 Nets forward Kevin Durant led all Eastern Conference players with 2,360,435 results in his favor after the initial tally. Bucks forward Giannis Antetokounmpo was nipping at his heels with a robust 2,145,835 fan votes of his own. Sixers center Joel Embiid received 1,236,060 fan votes. The top three frontcourt vote-getters (again, as determined by a split of fan, player, and media votes) will earn starter honors.
The selections of Durant, Antetkounmpo, and Embiid (all in the early running for MVP consideration) were largely expected. Celtics forward Jayson Tatum and Heat forward Jimmy Butler were the only other frontcourt players to earn 500K or more fan votes.
While Butler is clearly enjoying an All-Star-level season, which would be his sixth overall, he has only appeared in 23 of a possible 40 games for the 25-15 Heat. Currently sidelined with an ankle injury, Butler is expected to return to the court soon, and, provided that he does, should be a lock to make the coaches' picks for East reserves.
Tatum and Boston wing Jaylen Brown have each had productive individual seasons, but it has not translated to team success for the 19-21 Celtics, currently the tenth seed in the Eastern Conference. A team in danger of missing the play-in tournament seems unlikely to earn two All-Stars. Brown is listed in the backcourt for fan voting, while Tatum is in the frontcourt.
Cavaliers center Jarrett Allen, who was a big part of the trade that netted Brooklyn superstar guard James Harden, has blossomed into an All-Star caliber talent with Cleveland this season. Allen and guard Darius Garland are the Cavaliers' two All-Star candidates this season, though neither looks to have the votes to claw their way into the starter conversation. Allen was sixth in the first fan voting results for Eastern Conference frontcourt players with 168,019 votes. Garland ranked ninth among East guards (behind two much less-worthy candidates, whom we will discuss in a bit) with 119,399 votes. Rookie Cleveland power forward Evan Mobley, an early leader for the NBA's Rookie of the Year award, will most likely not make the cut, though he has been a crucial part of the team's incredible turnaround this season.
Other frontcourt players who have put up solid numbers on good teams in the conference include young Hornets forward Miles Bridges, enjoying a Most Improved Player-level season with an upstart Charlotte club. Hawks power forward John Collins also has a case, though the team's middling record could limit Atlanta from getting more than one All-Star this year. Other candidates for All-Star consideration (though probably not worthy of starting) include a cadre of recent All-Stars, among them Pacers big man Domantas Sabonis, Raptors power forward Pascal Siakam (though he has missed 14 games so far), Knicks power forward Julius Randle, and Bulls center Nikola Vucevic. Vucevic has stabilized after a rough shooting start, and has improved on defense this season.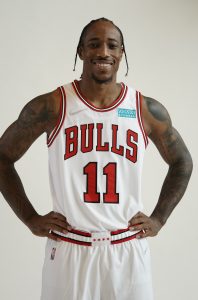 In the backcourt, the two current frontrunners to start are Bulls wing DeMar DeRozan (1,487,598 fan votes), enjoying a comeback season in Chicago at age 32, and Nets guard Harden (892,065 votes), who – despite having one of his worst seasons in years – remains one of the better guards in the NBA.
The selection of DeRozan here has stirred up a bit of controversy — not because of his merit, but because of his positional listing. The 6'6″ DeRozan is the Bulls' starting small forward, and moonlights plenty as a small-ball power forward. When he last made an All-Star team, with the Raptors in 2018, DeRozan was a shooting guard, but he was unlocked in subsequent seasons at the three and four while with the Spurs. Regardless, DeRozan looks to be a lock, provided he stays relatively healthy for the rest of the voting window.
Hawks point guard Trae Young is right behind Harden with 862,878 fan votes, while Bulls shooting guard Zach LaVine (776,043) and second-year Hornets point guard LaMelo Ball (422,247) round out the top five vote-getters among backcourt players. LaVine may not boast the late-game heroics or ball-handling ingenuity of his fellow Chicago swingman DeRozan, but he has put up terrific numbers as one of the undisputed two best players for the East's best club as of this writing. Chicago boasts a 26-10 record.
Young, fresh off leading his Atlanta team to a surprising Eastern Conference Finals appearance in 2021, is enjoying a great statistical season individually, but it has not translated to team success, in part because Young's defense has been… apathetic at best. The Hawks are currently the No. 12 seed in the East with a 17-22 record. Ball has led Charlotte to a 21-19 record and the East's eighth seed. Young, LaVine and Ball are all more deserving starters than Harden this season, though Harden remains worthy of a (bench) All-Star slot.
Insanely, Nets point guard Kyrie Irving, who has played in all of one game this season, is right behind Ball with 267,929 fan votes, while Knicks reserve point guard Derrick Rose, out for months following an ankle surgery and having put up fairly pedestrian numbers on a non-playoff team, has gotten 232,501 votes of his own. Neither player will get a shred of votes from players or journalists, and neither player has a chance of making the All-Star team, as a starter or reserve, this season.
Veteran Raptors point guard Fred VanVleet, who finished tenth during this initial window of fan voting, has emerged as perhaps the representative best player for a frisky Toronto club. Bucks point guard Jrue Holiday and Wizards shooting guard Bradley Beal also seem worthy of All-Star berths, though they both finished outside the top 10 this year in fan voting and appear doomed to join the ranks of the reserves.
New Heat point guard Kyle Lowry has had a down scoring year but has been the steady hand guiding the ship for a terrific Miami club missing its best players, Butler and big man Bam Adebayo, for a significant portion of its season. Yes, sixth man Tyler Herro is averaging significantly more points than Lowry (20.6 PPG to 13.7 PPG), but their overall shooting percentages are fairly similar. Herro is connecting on 42.7% of his field goal looks to Lowry's 42.2% shooting from the floor. Lowry, a six-time All-Star with the Raptors, has proven to be the better set-up man and defender by a long shot.
As of right now, this fan voter would slot Durant, Antetokounmpo and Embiid among his three starting frontcourt players, and put the two Bulls, DeRozan and LaVine, into the two starting backcourt spots.
We want to know what you think! Which players comprise your Eastern Conference All-Star starters? Are there any borderline starters you think could be determined based on their level of play over the ensuing month?
Head to the comment section below to weigh in!