Nuggets two-way forward Davon Reed took an unorthodox path to where he is today.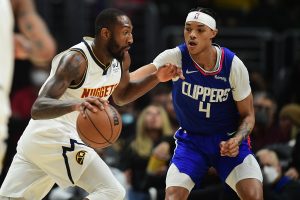 Reed, who will turn 27 this year, has bounced around since being selected with the No. 32 pick in the 2017 draft, playing for multiple NBA and G League franchises and even making a stop overseas in Taiwan.
Fast-forward to Saturday night against the Lakers and he was being tasked with guarding LeBron James as a primary defender, registering a +33 net rating and helping Denver earn a blowout win.
"I can't predict the future, but we're just getting started here in Denver," Reed told Hoops Rumors. "The community and the fans have embraced me. Obviously, my coach and my team have embraced me. I think it's definitely the start of something special, and I would like everybody to know that I'm just getting started.
"Right now, I'm just trying to be impactful in any way that I can with the minutes that I'm getting. But once I can be on that court for more and more time, with more and more responsibility, I think people will be thoroughly impressed."
Reed played for the Nuggets' Summer League team in Las Vegas, signed a training camp contract with the team, joined the Grand Rapids Gold (the Nuggets' G League affiliate), then inked three 10-day hardship deals with Denver before earning a two-way contract.
His infectious energy impressed the Nuggets, who felt compelled to keep him around when his hardship deals expired, rewarding him for his play.
Reed sat down with Hoops Rumors to discuss the promotion to the 17-man roster, his journey, his future goals, Denver's season and more:
---
How does it feel to know that your work, particularly with this franchise, has paid off to this point?
"Man, it's a good feeling. This is kind of the plan my agents and I set, seeing Denver's track record, how they treat their players and remain loyal if you remain loyal to them. You know, as a player, you're just excited. All you want to hear about is making that opening day roster and stuff like that. It was just a good transition from Summer League, to training camp, to being called up."
How important do you find it to provide stable defense and bring it on that end of the floor every night?

"That's something I've always prided myself on. I could see it was a need for our team and something I could provide immediately, each and every time I'm in the game. Like we talked about, it's a natural instinct for me, but it's also energy and effort. Just being able to provide more possessions for my team, being able to impact my team without necessarily having to put the ball in the hole is key. I look forward to doing that and all of the dirty work for my team."
Speaking of your team, what do you think your role is on this Nuggets club?
"I think as everybody becomes more comfortable with me, they'll realize I can bring a lot to the game on both ends of the floor. I do a little bit of everything. Versatile. I can score the ball, I can shoot the ball, but I'm also great at setting my teammates up. Just an overall, all-around player. At the end of the day, I just want to see us win."
How supportive has head coach Michael Malone been to you throughout this process? What has he preached?
"Man, he's been awesome. We didn't really have too many conversations during Summer League, but he was the one who really encouraged me to come to training camp and stay patient. Since day one, he told me, 'You're an NBA player. I saw it all summer. Keep doing what you're doing and bring that approach every day that you come in.' Him being so vocal, getting me called up and getting me signed, giving me that opportunity — it's been transformative for my career, since I really haven't had those opportunities consistently in the past."
What's it like to play with Nikola Jokic?
"I tell everybody, he's one of the best players I've ever seen with my own two eyes. Just his feel and control for the game. He's not the most athletic guy, but he just sees the game and plays the game at his own pace. I definitely can learn a lot from him since I consider myself to be a play-maker, as well, and have a lot of control on the game. Just seeing how he's able to pick the defense apart and things of that nature. I'm constantly observing. It's obviously fun to play with."
You worked your way up and earned this deal. Are you satisfied now?
"Absolutely not. At the beginning of the season, I spoke to my agents truthfully. I don't want to go to the G League, not really trying to sign a two-way, you know. I feel that's something that I've done for a while now and it wasn't really something that I was trying to do at this point in my career. But, the opportunity that we needed to present itself presented itself. And we're still working. The goal is to become a rotational player and get consistent minutes. I want to make an impact on this championship run. That's my real goal."
How challenging has this season been from a COVID perspective?
"We've had new players in and out, each and every day, with COVID or injuries. One thing I will say is that I'm happy to see how the NBA was able to keep the season going and give these G League players an opportunity to come up. There's a lot of talent in the G League. Usually, there aren't a lot of opportunities for certain guys. I'm glad to see that, but COVID has obviously caused a lot of complications this season. We're just taking it one day at a time and trying to get through this as a league. Everybody's going through the same stuff."
What are your short-term and long-term goals?
"For this season, being a big impact and rotational player for this championship team on our run. Going forward, leaving no doubt that I'm an NBA player. Working on establishing myself as one of the top two-way wings in the league, making a whole lot of money and winning some championships."