JANUARY 10: The Nuggets have officially acquired McGruder and the Nets' 2022 second-round pick in exchange for Bol, the team announced today in a press release. Denver also confirmed Reed's two-way deal and Cornelie's release in a separate announcement on Sunday.
---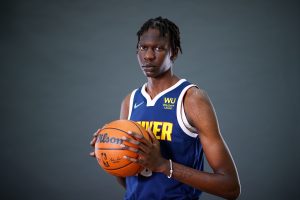 JANUARY 9: The Pistons will be sending veteran shooting guard Rodney McGruder and a future second-round draft selection to the Nuggets in exchange for intriguing young power forward Bol Bol, reports Adrian Wojnarowski of ESPN.
The pick going to Denver in the deal will be a 2022 second-rounder that Detroit originally acquired from the Nets, per Woj and James Edwards III of The Athletic (Twitter link).
There is more personnel news out of Denver. The Nuggets will upgrade the contract of guard Davon Reed, currently signed to his third 10-day hardship exception contract, to a two-way deal, according to Mike Singer of the Denver Post. To make a two-way slot available for Reed, Denver will release current two-way player Petr Cornelie.
In 12 games with Denver, including two starts, Reed is averaging 4.4 PPG on a .457/.350/.800 shooting line, along with 3.0 RPG, 1.3 APG and 1.2 SPG.
Singer notes that Bol struggled to find a consistent position while with the Nuggets and thus toggled between spot minutes at small and power forward. Head coach Michael Malone and his coaching staff also apparently projected more upside out of big men Vlatko Cancar and Zeke Nnaji, who had moved ahead of Bol in the team's rotation prior to Cancar's recent foot fracture. Singer adds that the Nuggets plan to retain McGruder for the time being.
Omari Sankofa II of the Detroit Free Press opines that the addition of Bol will help a depleted Detroit squad up front, which Sankofa identifies as one of the 8-30 club's key weaknesses. Woj writes in his piece that the addition of the 7'2″ forward will be an opportunity for the rebuilding Pistons to take a flyer on a young player with upside.
This season, Bol is averaging 2.4 PPG and 1.4 RPG in 5.8 MPG. Last season across eight games with the Windy City Bulls, the 22-year-old averaged 12.0 PPG, 5.8 RPG and 2.3 BPG. He recently had his best offensive game at the NBA level, scoring 11 points against the Rockets in 20 minutes on January 1.
ESPN's Bobby Marks notes (Twitter link) that, by sending the expiring $2.15MM deal of Bol out in exchange for the $1.7MM expiring deal of McGruder, the Nuggets will carve out additional space below the NBA's luxury tax. Denver is now $2.4MM under the tax line.
The 6'4″ McGruder has not made much of an impact during his time in Detroit. The 30-year-old re-signed with the Pistons on a veteran's minimum deal this summer after spending the 2020/21 season in Detroit. This season, he is averaging just 2.5 PPG and 1.6 RPG in 9.5 MPG, across 17 of the club's 38 contests.