Jazz forward Joe Ingles has been diagnosed with a torn left ACL, according to Adrian Wojnarowski of ESPN, who reports (via Twitter) that Ingles will miss the rest of the 2021/22 season.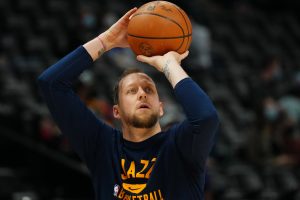 The plan is for Ingles to undergo surgery to repair the ACL tear within the next few weeks, once he gets a range of motion back in his knee, sources tell Wojnarowski (Twitter links).
Ingles, the runner-up for the Sixth Man of the Year award to teammate Jordan Clarkson in 2020/21, was having a down year this season, averaging just 7.2 PPG, 3.5 APG, and 2.9 RPG on .404/.347/.773 shooting in 45 games (24.9 MPG). However, he was still a regular rotation player for the Jazz and is viewed as one of the club's locker-room leaders.
Ingles' injury is a tough blow to a slumping squad that is already dealing with a series of other injuries. Donovan Mitchell has been in the concussion protocol for two weeks, having last played on January 17, while Rudy Gobert has missed Utah's last four games due to a calf ailment. After starting the season with a 28-10 record, the Jazz have lost 11 of their last 13 games, including five in a row.
Mitchell's and Gobert's injuries, at least, aren't considered long-term issues, but the Jazz will need to find a way to make up Ingles' production. In the short term, forwards like Bojan Bogdanovic, Royce O'Neale, and Rudy Gay will be leaned on more heavily.
Because he's in the last year of his contract and has had an up-and-down season, Ingles had been viewed as a potential trade candidate for a Utah team seeking an upgrade on the wing. The 34-year-old and his $13MM expiring deal seem even more likely to be moved now. Like the Cavs have done with Ricky Rubio since he suffered an ACL tear of his own, the Jazz will probably shop Ingles with a draft pick in the hopes of acquiring a player who can help the club contend this season.
The Jazz won't be able to apply for a disabled player exception in response to Ingles' injury, since the deadline to submit a DPE request was January 15.