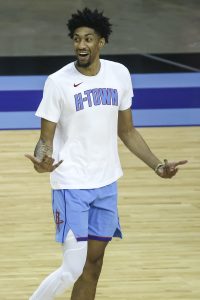 Kevin Porter Jr. and Christian Wood may have uncertain futures in Houston following a locker-room altercation with coaches at halftime of the Rockets' loss to Denver Saturday night.
According to Shams Charania and Kelly Iko of The Athletic, Porter left the arena after assistant coach John Lucas challenged him, Wood, and several other players for a lack of effort. Porter reportedly threw an object and had to be separated from Lucas during the exchange. When told that he wouldn't play in the second half, he responded by driving away rather than joining his teammates on the bench.
Wood, the team's leading scorer and rebounder, was held out of the starting lineup after missing a mandatory COVID-19 test earlier in the day, the authors add. He played eight minutes in the first half, going scoreless and missing all four of his shots from the field, and sources tell Charania and Iko that he informed coaches at halftime that he wasn't interested in playing in the second half.
Head coach Stephen Silas said the incident was sparked by a "spirited debate" after allowing the Nuggets to score 77 points in the first half, writes Jonathan Feigen of The Houston Chronicle. It marked the second straight game in which the Rockets had surrendered more than 70 points in the first half.
"I mean, we were angry at halftime that we had just given up 47 points (in the second quarter)," Silas said. "So, we watched the film. We had a spirited debate at halftime. And you know, I have certain demands of this group as far as playing hard. Making mistakes is different than giving the effort, and I wasn't satisfied with the effort. So, halftime took a little bit longer and then getting more organized after halftime (took a) little bit longer as well."
Porter has spoken to team officials and expressed regret about the incident, a Rockets source told Iko. He has a history of anger issues, which is why Houston was able to acquire him from the Cavaliers midway through last season for a conditional second-round draft pick.
After the trade, the Rockets sent Porter to their G League affiliate to learn how to become a point guard. The organization has committed to him for that position, to the point of keeping John Wall, the team's highest-paid player, inactive so he won't affect Porter's minutes. Porter will be eligible for a rookie-scale extension this summer, and this latest issue will surely affect the Rockets' willingness to make a long-term commitment.
There have already been trade rumors surrounding Wood, who is in the second season of a three-year contract he signed as a free agent in 2020. He's having another productive year, averaging 16.8 points and 10.3 rebounds in 35 games, but Houston isn't winning and he's probably the team's best trade asset.
No disciplinary action has been announced against either player, although fines and possible suspensions seem likely.
The Rockets barely made it back to the court in time for the second half, Feigen adds, and the incident reveals problems that go far beyond a seven-game losing streak.
"There is, you know, when you're competitors, there's times where you're in the locker room and in the locker rooms … you're getting after it and you're showing examples," Silas said. "And you know, when you want a team to do better, you have to let them know. And tonight, was the night I had to let them know."