Kings guard Terence Davis has suffered a right wrist ECU tendon injury which will sideline him indefinitely, per Sean Cunningham of ABC10 (KXTV) Sacramento (Twitter link). The injury occurred during the second quarter of Tuesday's 128-75 blowout loss at Boston.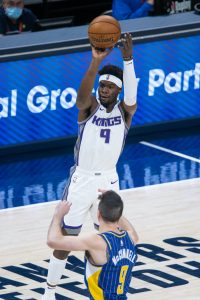 Davis had an MRI on the wrist in Atlanta Wednesday morning which confirmed the injury. An X-ray taken of the wrist in Boston was negative. Davis also received five stitches above his right eye to repair a laceration after the hard fall.
Davis, a third-year undrafted guard out of Mississippi, is in his second season with Sacramento after spending his rookie year and part of last season with Toronto.
He had a tumultuous offseason prior to the 2020/21 campaign in which he was arrested in New York and had domestic assault charges filed against him. The legal problems certainly didn't help matters for Davis, and the Raptors ended up trading him to the Kings last March in exchange for a second-round pick (Dalano Banton was later selected).
Davis was a restricted free agent last summer and was hoping to receive a contract in the neighborhood of $9MM annually, however he ended up re-signing with the Kings on a two-year deal worth a total of $8MM. In 30 games this season (17.9 MPG), Davis is averaging 10.4 PPG and 3.1 RPG on .423/.329/.818 shooting.
Reserves Buddy Hield and Davion Mitchell figure to see an uptick in minutes with Davis sidelined. The Kings have struggled of late, losing four straight games and eight of their last ten. They currently hold a 18-31 record, 13th in the West.