10:11pm: The trade is now official, according to a press release from the Celtics. White heads to Boston, while the Spurs acquire Richardson, Langford, the Celtics' 2022 first-round pick (top-four protected), and the conditional right to swap first-round picks with Boston in 2028.
---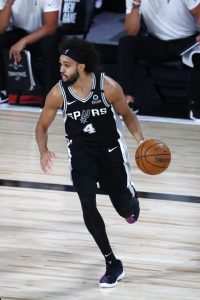 12:40pm: The Celtics are trading Josh Richardson to the Spurs in a deal for Derrick White, according to Shams Charania of The Athletic (Twitter link).
Sources tell Chris Haynes of Yahoo Sports (via Twitter) that the Celtics are including a first-round pick in the trade. That pick will be Boston's top-four protected 2022 first-rounder, a source tells Adam Himmelsbach of The Boston Globe (Twitter link).
Himmelsbach tweets that Romeo Langford will also be headed to San Antonio. In addition, the Spurs will have the ability swap 2028 first-round picks with Boston, sources tell ESPN's Zach Lowe (Twitter link).
White, now in his fifth season, is averaging 14.4 PPG, 3.5 RPG, 5.6 APG, 1.0 SPG, and 0.9 BPG through 49 games (30.3 MPG). The 27-year-old is also one of the NBA's best perimeter defenders. White's big weakness is an inconsistent outside shot, shooting just 31.4% from three-point range.
However, he's a good finisher inside the arc, making 51.9% of his two-pointers and 86.9% of his free throws, both very respectable for a guard. He's also a heady passer and driver on top of being a premier defender. White's addition further bolster's Boston's third-ranked defense, and the team will become an absolute menace on that end of the court.
White makes $15.2MM this season and is under contract through 2024/25, making him a potentially long-term addition as president Brad Stevens builds the roster around stars Jayson Tatum and Jaylen Brown. Boston currently sits at 30-25 after winning six straight, No. 7 in the East.
As Keith Smith of Spotrac tweets, the Celtics plan to absorb White's contract into their Evan Fournier traded player exception, which is worth $17.1MM. Doing so will create a new TPE worth $11.2MM for Richardson. Smith notes that could change, pending other moves, but that's the plan for now. John Hollinger of The Athletic first reported that creating a new TPE for Richardson was a possibility (via Twitter).
San Antonio obtains a stunning array of assets for White. I value him highly and think the Celtics have improved significantly in the short-term, but they gave up an awful lot to get him. The first-round pick this season is almost certain to convey, and depending on how the rest of this season plays out, there's even a chance it could be a late lottery pick, although Boston has played outstanding basketball since the start of January. The 2028 pick swap could also be very valuable, but that's far down the line and foolish to speculate about at this juncture.
Richardson, 28, was in his first season with Boston after being acquired via trade in the offseason. The 40th overall pick of the 2015 draft by Miami, Richardson had been a valuable two-way contributor for the Heat before being traded multiple times the past few years, spending the 2019/20 season with the Sixers and last season with the Mavs. He'd been a bit disappointing for both of those clubs, but is performing well this season, averaging 9.7 PPG, 2.8 RPG, and 1.5 APG on .443/.397/.859 shooting in a reserve role (44 games, 24.7 MPG).
San Antonio also gets a buy-low candidate in Langford, the 14th overall pick of the 2019 draft. Still just 22, Langford was a highly touted prospect who struggled to break Boston's rotation. Now in his third season, he's averaging 4.7 PPG and 2.4 RPG through 44 games (16.5 MPG). As a third-year former first-round pick, Langford is eligible for a rookie scale extension this summer, although it wouldn't be surprising to see the Spurs take a wait-and-see approach, as they'd still hold his rights as a restricted free agent in the summer of 2023.