Clippers guard Jay Scrubb will miss the remainder of the season after undergoing surgery to repair the plantar plate in his right foot, the team's PR department announced (Twitter link). Scrubb suffered a turf toe injury necessitating the procedure, which occurred Wednesday in New York.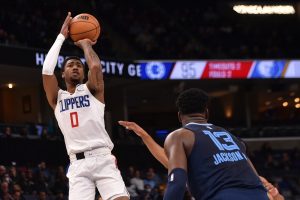 Scrubb, 21, was the 55th overall pick of the 2020 draft by the Nets. He was dealt to the Clippers the next day as part of a three-team trade that also brought Luke Kennard to Los Angeles.
Scrubb appeared in four games last season as a rookie and played in 18 contests this season, averaging a modest 6.7 MPG and 2.7 PPG.
Scrubb is on a two-way contract with the Clips. In four G League games with Agua Caliente this season, the team's afilliate, Scrubb averaged an impressive 24.0 PPG, 3.0 RPG, 3.0 APG, and 1.5 SPG on .450/.438/.667 shooting (27.5 MPG).
As a young two-way player on a deep team, Scrubb's absence won't have much of an impact on the Clippers' rotation, but hopefully he will recover quickly.