Nets star James Harden would like to be traded to the Sixers, but hasn't formally asked the Nets to move him, sources tell ESPN's Adrian Wojnarowski.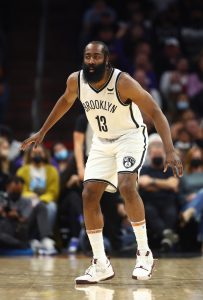 As Wojnarowski explains, Harden's reluctance to make a trade request stems from a fear of the public backlash he would face for trying to force his way to a new team for a second consecutive season.
ESPN's Brian Windhorst and Keith Pompey of The Philadelphia Inquirer previously reported that Harden wanted to be traded to the 76ers.
According to Wojnarowski, Harden is hopeful that the Sixers and Nets will be able to work out a deal prior to today's deadline that sends him to Philadelphia, with Ben Simmons and other assets headed to Brooklyn. However, sources tell Woj that Sixers president of basketball operations Daryl Morey and Nets general manager Sean Marks have yet to engage in serious dialogue on a deal.
There's an expectation that the Nets and 76ers will talk on Thursday, so there's still a possibility that the two sides could come to an agreement, Wojnarowski reports. However, Brooklyn would likely want a collection of assets beyond Simmons — Seth Curry, Matisse Thybulle, and future first-round picks have been repeatedly cited as pieces that would appeal to the Nets.
Both sides will have a handful of factors to take into account as they weigh whether or not to make a deal today. If Harden truly wants to go to the Sixers, Philadelphia could afford to be patient and try to land him as a free agent in the offseason when they wouldn't necessarily require the Nets' cooperation. Clearing the cap room required to sign Harden outright would be tricky, but not impossible, so Brooklyn may feel some urgency to get something in return for the All-Star guard today rather than risk facing that scenario this summer.
On the other hand, if and when the Nets get healthy, their roster as currently constructed has more championship upside than the Sixers' roster does. Philadelphia may feel some pressure to get something done today in order to get Joel Embiid help to contend for a title this year, rather than face the possibility of having an asset like Simmons remain on the shelf for the rest of the season.
According to Wojnarowski, the Sixers have "largely retreated" on other trade discussions involving Simmons until they determine one way or another whether they can move him for Harden.
If the discussions between the Nets and Sixers hit a dead end today, it's still possible Philadelphia will hang onto Simmons until the summer. More trade options, including a renewed opportunity to land Harden, could be available to the team at that point.
Harden, who hasn't played since last Wednesday due to a minor hamstring issue, didn't accompany the Nets to Washington for Thursday's game vs. the Wizards, tweets ESPN's Zach Lowe. Wojnarowski mentions in his story that Harden's ongoing absence has led to speculation that he's "purposely shutting down to send a message on his waning desire to remain with the Nets."