FEBRUARY 23: The Celtics have officially signed Fitts and Martin to 10-day contracts, the team announced today in a press release.
---
FEBRUARY 22: Forwards Malik Fitts and Kelan Martin are set to sign 10-day deals with the Celtics, per Shams Charania of The Athletic (via Twitter).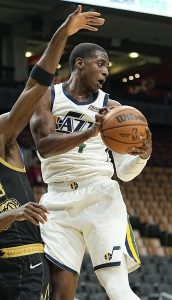 Fitts, a 6'8″ second-year power forward out of Saint Mary's, had a two-way deal with the Jazz earlier this season, but was waived by Utah in January after fracturing his right wrist. He signed an NBA G League contract prior to the news of his joining the Celtics.
Across seven contests with the Jazz this season, Fitts averaged 5.0 MPG. In seven games with the Agua Caliente Clippers of the NBAGL this season, Fitts averaged 15.1 PPG, 6.0 RPG, 2.0 APG, 1.0 BPG and 1.0 SPG, on shooting splits of .396/.267/.846.
The 6'5″ Martin, 26, was most recently with the Pacers, but Indiana waived him in January before his contract for the rest of the 2021/22 season could become guaranteed, as Scott Agness of Fieldhouse Files observes (via Twitter).
Through 27 games with Indiana this year, the third-year small forward out of Butler holds averages of 6.3 PPG and 2.0 RPG while making 41.7% of his takes from the floor and 69.2% of his looks from the charity stripe.
The duo will join a revamped Boston roster hoping to make a push up the Eastern Conference standings following an active trade deadline. As we noted earlier this week, the C's had to make two roster additions this week in order to get back up to the NBA-mandated minimum of 14 players.
The Celtics, who won nine of their last ten games heading into the All-Star break, are currently the sixth seed in the East with a 34-26 record. The team is now just 4.5 games behind the top-seeded Heat and Bulls.