9:29pm: The trade is official, according to a Wizards press release. Dallas also confirmed the deal in a press release, announcing that they've waived Brown.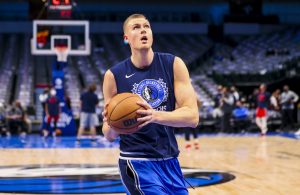 The second-rounder going to Washington is a protected 2022 pick, the teams announced. It'll have to be the Mavs' own second-rounder, since they hadn't previously acquired any others.
"Kristaps is an All-Star player whose unique talents will fit well within our system and allow him to impact the game for us in multiple ways," Wizards president of basketball operations Tommy Sheppard said in a statement. "He will get a fresh start with our team and provide us with the opportunity to play multiple lineups that feature size, versatility and shooting ability."
---
1:38pm: The Mavericks and Wizards have agreed to a major trade, according to reports from Shams Charania of The Athletic and Marc Stein (Twitter links).
Big man Kristaps Porzingis is headed to Washington in the deal, per Stein, while Dallas will receive point guard Spencer Dinwiddie, according to Charania. Tim MacMahon of ESPN reports (via Twitter) that the Mavs are also acquiring sharpshooter Davis Bertans, while Adrian Wojnarowski of ESPN says (via Twitter) that the Wizards are getting a second-round pick.
The Mavs will release big man Moses Brown to complete the trade, tweets MacMahon.
According to Stein (via Twitter), the Mavs spent much of the day on Thursday trying to find a home for Porzingis, who was previously linked to the Raptors. Dallas gave up a significant package in 2019 to acquire Porzingis from the Knicks, but he has continued to battle health problems in the years since then and hasn't developed into the star running mate for Luka Doncic that the Mavs envisioned. He is also owed nearly $70MM for the two years beyond this season.
This season, Porzingis has averaged 19.2 PPG and 7.7 RPG while playing improved defense, but his three-point rate dipped to a career-worst 28.3% and he has only been healthy for 34 of 55 games. Dallas has a 13-8 record in the games he has missed.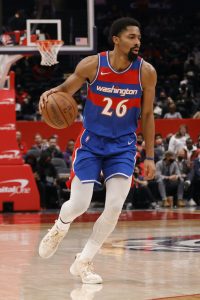 The Wizards, who are retooling their roster around Bradley Beal, will roll the dice on Porzingis, hoping he has more success in D.C. than he did in Dallas. They'll give up Dinwiddie and Bertans, two players who struggled badly this season in the midst of pricey multiyear deals.
Dinwiddie, 28, signed a three-year contract with the Wizards in the offseason, but has shot just 37.6% from the floor in his first season back from ACL surgery. As Josh Robbins of The Athletic tweets, Dinwiddie never seemed comfortable in Washington's offense without the ball in his hands, which happened a lot when he played alongside Beal.
Bertans, meanwhile, is in the second season of a five-year, $80MM contract, but has seen his three-point shooting fall off a cliff in 2021/22. A career 40.7% three-point shooter entering the season, the 29-year-old forward has made just 31.9% of his attempts from beyond the arc this year.
The Mavericks will be hoping that both players, who have had plenty of success in the past can bounce back in Dallas. Dinwiddie will give the team another ball-handler when Doncic and/or Jalen Brunson aren't on the court, while Bertans will provide another floor-spacer to give Doncic more room to operate.
As Bobby Marks of ESPN notes (via Twitter), Dinwiddie will give the Mavs' some insurance in case they're unable to re-sign Brunson in unrestricted free agency this summer. However, sources tell MacMahon (Twitter link) that Dallas remains confident about its ability to retain Brunson beyond this season.