FEBRUARY 12: The Mavericks have officially completed Finney-Smith's extension, the team announced today (via Twitter).
---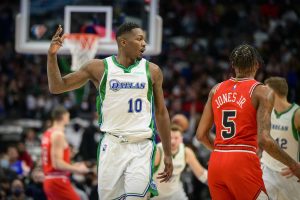 FEBRUARY 11: Finney-Smith and the Mavericks have formally agreed to a four-year extension, agents Michael Tellem and Jeff Schwartz tell Adrian Wojnarowski of ESPN (Twitter link).
Wojnarowski suggests it's worth $55.5MM, though we'll have to wait for the official details to confirm if that entire amount is guaranteed. The deal will include a fourth-year player option and a trade kicker, Woj adds.
---
FEBRUARY 10: The Mavericks are close to finalizing a contract extension with forward Dorian Finney-Smith, reports Tim MacMahon of ESPN (Twitter link).
The new deal will tack four years onto Finney-Smith's expiring contract and will be worth $52MM, according to Marc Stein (Twitter link).
Shams Charania of The Athletic (Twitter link) also reports that $52MM figure, though MacMahon says (via Twitter) it'll be in the $55MM range, so perhaps there will be incentives that could affect the precise value of the deal.
Finney-Smith, 28, has had the best season of his NBA career in 2021/22. In 54 games (32.5 MPG), he has averaged 10.1 PPG, 4.8 RPG, 2.0 APG, and 1.2 SPG on .435/.363/.688 shooting. He is also one of Dallas' most reliable defensive players.
Earning just $4MM this season, Finney-Smith has been a bargain for the Mavs, but he was on track for unrestricted free agency this summer. According to MacMahon (Twitter link), the team didn't want to risk losing one of its most valuable role players and best locker-room guys in the offseason.
The first-year salary in a veteran contract extension can be worth up to 120% of the salary in the final year of the player's previous contract or 120% of the NBA's estimated average salary, whichever is greater. In Finney-Smith's case, that meant he was eligible to make up to $55.56MM over four years on an extension.
Estimates on Finney-Smith's next deal had varied in recent weeks, with one report stating he was unlikely to receive more than the mid-level exception (about $10MM per year), while another suggested he may seek more than $15MM annually. Ultimately, he and the Mavs split the difference, agreeing to a figure slightly below his in-season maximum in order to lock a new deal in early.
With Finney-Smith's free agency no longer a concern, Dallas will be able to focus on working out a new deal with point guard Jalen Brunson. Like Finney-Smith, Brunson is currently extension-eligible, but he seems unlikely to settle for a four-year, $55.56MM deal, since he's expected to draw interest from multiple teams, including the Pistons and Knicks, as a free agent this summer.