FEBRUARY 25: Cousins has been signed for the remainder of the season, according to a team press release.
---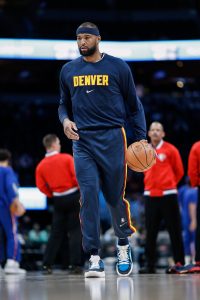 FEBRUARY 22: The Nuggets intend to sign center DeMarcus Cousins to a rest-of-season contract, according to Shams Charania of The Athletic (Twitter link). The plan is for the deal to be officially completed on Friday, tweets Mike Singer of The Denver Post.
Cousins has spent most of the last month with the Nuggets, first on a hardship 10-day deal, then on two standard 10-day pacts. Because a player can't sign more than two standard 10-day contracts with the same team in a season, Denver has to commit to Cousins for the rest of the season in order to keep him on the roster.
The 6'10", 270-pound veteran, a four-time All-Star and two-time All-NBA player while with the Kings and Pelicans, saw his career fortunes take a turn after he ruptured his left Achilles with New Orleans in 2018. Cousins then sustained a torn quad in the spring of 2019 and tore his ACL while with the Lakers ahead of the 2019/20 NBA season. Since recovering from those injuries, he has become a role player for various clubs, including both the Rockets and Clippers during the 2020/21 season.
This season, Cousins first joined the Bucks, a club looking to compensate for the size it lost when starting center Brook Lopez was forced to sit with a back injury that ultimately led to surgery. The 31-year-old Cousins played a total of 17 games with Milwaukee, and to date has appeared in eight games for the Nuggets as a reserve behind reigning MVP Nikola Jokic, reuniting with former Kings head coach Michael Malone.
In 25 games total this year between the Bucks and Nuggets, Cousins holds averages of 8.1 PPG and 5.9 RPG, while shooting 41.4% from the floor and 77.6% from the free-throw line. Granted, these are far cries from his career numbers (19.9 PPG, 10.4 RPG and 3.1 APG on .459/.330/.737 shooting), but it's nice that Cousins appears to have adjusted to his new role on two title contenders.
Harrison Wind of DNVR Sports notes (via Twitter) that the Nuggets have been undefeated in their games played with Cousins this year.