2:22pm: The Raptors have issued a press release officially announcing the trade.
---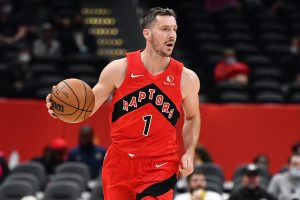 10:51am: The Raptors and Spurs have agreed to a trade that will send forward Thaddeus Young to Toronto in exchange for point guard Goran Dragic, reports Shams Charania of The Athletic (Twitter link).
According to Charania (via Twitter), big man Drew Eubanks and the Pistons' 2022 second-round pick are also headed to Toronto in the deal, with the Raptors sending San Antonio their 2022 first-round pick (top-14 protected). That pick would be top-13 protected in 2023 if it doesn't change hands this season, and would turn into two future second-rounders if it doesn't convey in '23.
The Raptors had been shopping Dragic and draft capital for much of the season as they looked to acquire a player who could step into their rotation. Dragic, who was part of the return in the Kyle Lowry sign-and-trade last summer, appeared in just five games with Toronto before leaving the team for personal reasons.
In Young, Toronto gets a tough, playoff-tested veteran who – like Dragic – was a throw-in for salary-matching purposes in an offseason sign-and-trade, having been sent from Chicago to San Antonio in the DeMar DeRozan deal. Young had a nice year in Chicago in 2020/21, averaging 12.1 PPG, 6.2 RPG, and 4.3 APG in 68 games (24.3 MPG), but wasn't part of the Spurs' plans and hasn't played much this season.
Eubanks, 25, could also compete for minutes in Toronto after spending the first four years of his NBA career in San Antonio. He has averaged 4.7 PPG and 4.0 RPG in 49 games (12.1 MPG) this season.
[UPDATE: Raptors to waive Eubanks]
Young has an expiring $14.2MM contract, while Eubanks is earning the minimum this season, with a non-guaranteed minimum salary for 2022/23 before he becomes eligible for free agency. The Raptors will create some extra breathing room below the luxury tax line by swapping Dragic's $19.4MM expiring deal for those two players.
Meanwhile, the Spurs – who have historically been quiet at the trade deadline – have now completed three in-season deals in 2021/22. Their goal in this deal was to continue stockpiling draft assets, so Dragic almost certainly won't remain on the roster.
ESPN's Adrian Wojnarowski (via Twitter) reports that Dragic and the Spurs are expected to negotiate a buyout, with the Mavericks, Bucks, Bulls, and Clippers among his potential suitors. Dallas is believed to be the frontrunner, according to Michael Grange of Sportsnet.ca and Chris Haynes of Yahoo Sports (Twitter links).
The Raptors have an opening on their 15-man roster, so they won't have to waive a player to officially finalize the trade. They'll also create a trade exception worth the difference between Dragic's and Young's salaries ($5.25MM).