9:53am: The Spurs have officially waived Dragic (Twitter link via Paul Garcia of Project Spurs). As noted below, he'll clear waivers and become a free agent on Thursday.
---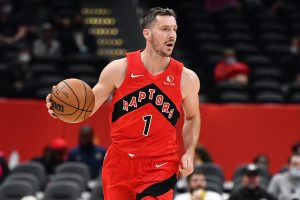 8:30am: The Spurs and point guard Goran Dragic have reached a buyout agreement, reports Shams Charania of The Athletic (Twitter link).
Assuming Dragic is officially released today and clears waivers – which is a near-certainty due to his $19.4MM cap hit – he'll become an unrestricted free agent on Thursday. At that point, he'd be free to sign with any team except the Raptors — NBA rules prohibit a team from re-signing a player it traded earlier in the league year if that player is cut by his new team.
Charania doesn't identify any specific suitors for Dragic, but says "a slew" of teams are expected to pursue the playoff-tested veteran.
Previously, ESPN's Adrian Wojnarowski named the Bucks, Lakers, Warriors, Clippers, Bulls, and Nets as clubs expected to show interest in Dragic. Wojnarowski later said that Milwaukee, in particular, is expected to aggressively pursue the 35-year-old.
The Mavericks were viewed at one point as a potential frontrunner for Dragic, but acquired Spencer Dinwiddie at the trade deadline and are no longer believed to be in the market for a point guard. General manager Nico Harrison said last week that he thinks Dallas' roster is "set."
The Heat, meanwhile, are no longer ineligible to reacquire Dragic, since he was traded for a second time after Miami moved him in August. The guard has been working out in Miami for much of the season and the Heat have two open roster spots, so a reunion seems plausible, even though the club wasn't mentioned by Wojnarowski over the weekend as a likely suitor.
Dragic averaged 13.4 PPG, 4.4 APG, and 3.4 RPG on .432/.373/.828 shooting in 50 games (26.7 MPG) for the Heat in 2020/21. However, he appeared in just five games for the Raptors this season after being sent to Toronto as part of the Kyle Lowry sign-and-trade.
Dragic hasn't played since November, having taken a personal leave of absence from the Raptors up until he was traded to San Antonio at last week's deadline.