FEBRUARY 1: Little underwent surgery this morning in Florida, with Dr. James Andrews repairing the torn labrum in his left shoulder, the Blazers announced in a press release. According to the team, Little is expected to make a full recovery in time for training camp in the fall.
---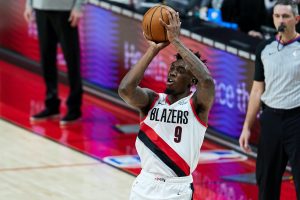 JANUARY 31: Little will undergo surgery on Tuesday to repair the torn labrum in his left shoulder and will miss the rest of the season, the Blazers confirmed today in a press release.
---
JANUARY 27: Trail Blazers forward Nassir Little has a labral tear in his left shoulder, the team announced in a press release. Little was hurt in the fourth quarter on Tuesday against Minnesota. An MRI taken Wednesday revealed the injury.
Portland said an update on Little's status would be provided when available, which is standard among NBA teams. However, sources tell ESPN's Adrian Wojnarowski (Twitter link) that the forward is likely to miss the remainder of the 2021/22 season.
Little, who turns 22 in a couple weeks, in his third year in the league after being selected by the Blazers with the 25th overall pick of the 2019 draft. He was having the best season of his career to date, averaging 9.8 points, 5.6 rebounds, 1.3 assists, and 0.9 blocks on .460/.331/.734 shooting through 42 games. Little had been particularly effective in January, putting up 13.1 points and 5.7 rebounds on .454/.403/.727 shooting this month.
An athletic, energetic defensive presence, Little has blossomed into a rotation regular this season after receiving limited playing time during his first two seasons. He reportedly had a terrible bout with COVID-19 at the beginning of last season, losing 20 pounds and suffering grinding headaches, which impacted his development. However, he got back into shape and made a strong impression in the offseason, earning a huge minutes increase — going from 13.3 per game last season to 25.9 this season.
As a third-year former first round pick, Little is eligible for a rookie scale extension this summer. The injury might hurt his leverage in contract negotiations, but Portland has likely seen enough to know that his improvement is legitimate. The Blazers picked up their fourth-year team option on Little in October, a few weeks before the season started. He'll make $4,171,548 in 2022/23.