1:40pm: Watford's promotion and Smith's release are now official, according to an announcement from the Trail Blazers. Portland now has an open two-way slot.
---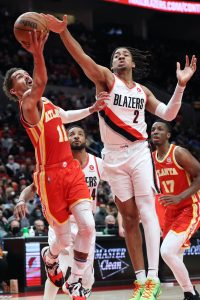 11:40am: The Trail Blazers have reached an agreement on a deal with rookie forward Trendon Watford that will promote him from his two-way contract to the 15-man roster and give him a new four-year contract, reports ESPN's Adrian Wojnarowski (via Twitter).
According to Wojnarowski, Portland will waive guard Dennis Smith Jr. in order to create an opening on the 15-man roster for Watford. Smith is currently sidelined due to an elbow injury.
Watford's new four-year contract will be worth $5.8MM, says Wojnarowski. The Blazers will dip into their mid-level exception in order to go up to four years and to give the 21-year-old a salary worth a little more than the prorated minimum for the rest of 2021/22 — the remaining three years will be worth the minimum. Additionally, the final two seasons of the deal will be non-guaranteed, according to Woj.
Watford, who went undrafted out of LSU in 2021, quickly caught on with the Trail Blazers on a two-way deal and was one of the very first players to officially sign a contract once the '21/22 league year started in August.
Watford began the season out of the rotation and didn't play double-digit minutes in a game until January 3, but he has appeared in every one of Portland's games since then. In 24 games since the calendar flipped to 2022, he's averaging 5.5 PPG and 3.9 RPG on 60.4% shooting in 15.5 minutes per contest. We identified him last week as one of the players on two-way contracts who was a candidate for a promotion.
Smith, 24, signed a non-guaranteed contract with Portland in the 2021 offseason and won a roster spot in training camp. He appeared in 37 games for the team, averaging 5.6 PPG, 3.6 APG, 2.4 RPG, and 1.2 SPG in 17.2 minutes per contest. Before he injured his elbow, the former lottery pick had become a more regular part of the rotation due to Damian Lillard's absence.
The fact that Portland is opting to waive Smith rather than injured forward Joe Ingles, who was acquired for salary-matching purposes at this month's trade deadline, suggests that the team may still see value in Ingles' Bird rights. However, with Ingles out for the rest of the season due to a torn ACL, he remains a candidate to be cut in the coming weeks if the Blazers want to make another signing.