Ex-GM Donnie Nelson has sued his former club, the Mavericks, alleging he was fired by owner Mark Cuban in June of 2021 as retaliation for reporting sexual misconduct, according to Don Van Natta Jr. of ESPN.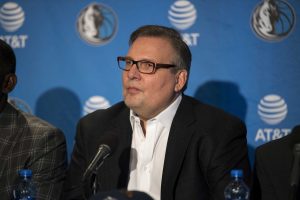 Nelson's lawsuit alleges he was fired for reporting that his nephew was sexually harassed and assaulted by Cuban's chief of staff, Jason Lutin, during a job interview on February 16, 2020, Natta writes.
Cuban offered Nelson $52MM to withdraw a wrongful termination claim and sign a confidentiality agreement regarding the alleged harassment and assault, the lawsuit alleges. The unsigned agreement is attached to the lawsuit, with the Mavs admitting no wrongdoing but barring Nelson from discussing or disclosing the allegations.
Cuban denied the allegations in an email to ESPN.
"Everything in that filing is a lie," Cuban wrote. "We did multiple complete investigations and the only person that did not live up to the standards of the Dallas Mavericks was Mr. Nelson. He was fired as a result. He was well aware of the investigation. He refused to fully participate. I will say it again, everything he said is a lie."
Lutin also denied the allegations in an email to Natta.
"What this man [Nelson] is doing to someone like me is absolutely unspeakable. It's a complete lie and I defer to Mavs to comment and who have already dealt with this matter," Lutin said. "And obviously have a lot of information to show none of that ever happened."
Nelson didn't find out about the incident with his nephew, who isn't named, until five months after it occurred, by which point the nephew had reached a settlement agreement with the team for an undisclosed amount, the lawsuit states.
When he learned about the alleged incident, Nelson was reportedly in negotiations on a 10-year contract extension with Cuban, whom he then confronted regarding Lutin's alleged actions. A couple months later, Cuban withdrew a 10-year, $66MM extension offer, according to the lawsuit.
In a statement to ESPN's Natta, Nelson said he filed the lawsuit "on behalf of my family and all the Mavericks employees who have experienced harassment, discrimination, or retaliation in the workplace."
"Filing a lawsuit is not something to be taken lightly — however, it was extremely important that I speak up," Nelson said. "The facts that come out in this lawsuit will hopefully protect the incredible people I've had the honor and privilege of working with during my 24 years with the Mavericks."
Nelson, who was originally hired by the Mavs in 1998, was promoted to the role of GM/president in 2005 and had been one of the NBA's longest-tenured lead basketball operations executives.
In 2018, the Sports Illustrated released a report which painted "a picture of a corporate culture rife with misogyny and predatory sexual behavior" within the Mavericks organization, focusing particularly on former Mavs president and CEO Terdema Ussery and former Mavs.com beat writer Earl K. Sneed.
The resulting investigation substantiated the report, and the Mavs were found to have "serious workplace misconduct by former and current employees," along with "improper or ineffective management." Cuban, who was not implicated in the 2018 report, donated $10MM to organizations that "promote women in leadership roles and combat domestic violence."
There are more details on Nelson's lawsuit in Natta's report for ESPN, which can be found here.