For the rest of the regular season and postseason, Hoops Rumors is taking a closer look at players who will be free agents or could become free agents this offseason. We consider whether their stock is rising or falling due to their performance and other factors. Today, we're focusing on a handful of Southeast players.
---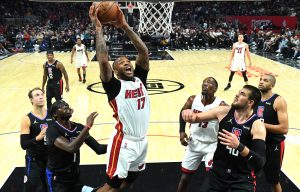 2021/22: $7MM
2022/23: $7.35MM player option
Stock: Up ⬆️
Tucker will turn 37 years old in May, and there aren't many non-stars in the NBA who could realistically turn down a $7.35MM guarantee at that age. Tucker might be in position to do so though. He has been everything the Heat hoped for this season, starting 56 games, playing stellar defense, and knocking down a career-high 44.9% of his three-point attempts. If that performance carries over to the postseason and he plays a key role in a deep playoff run, Tucker could realistically command one more multiyear contract this summer.
2021/22: $7.57MM
2022/23: RFA
Stock: Up ⬆️
Entering 2021/22, Bamba was facing a make-or-break year. He had battled injuries and failed to take major steps forward in his first three seasons after being drafted sixth overall in 2018. If this season had resembled his first three, he would've been hard-pressed to find more than a minimum-salary deal during his upcoming free agency.
Bamba has responded to the challenge, starting 52 games so far for a rebuilding Magic team and establishing new career highs in PPG (10.2), RPG (7.9), BPG (1.8), and MPG (26.1), among other categories. While he hasn't yet reached the level that some envisioned when he was drafted, his ability to protect the rim and hit the occasional three-pointer (34.5% on 3.6 attempts per game) should make him a popular target for teams in need of a center this offseason.
Bamba will be a restricted free agent if Orlando extends him a $10.1MM qualifying offer. I expect the Magic will do so unless they don't see Bamba as part of their future.
2021/22: $8.67MM
2022/23: UFA
Stock: Down ⬇️

Bryant hasn't been bad since returning to action following his recovery from a torn ACL, but he hasn't been the same player he was prior to the injury in 2019-21, when he averaged 13.4 PPG and 7.0 RPG with a .411 3PT%.
The Wizards have a -11.7 net rating when Bryant plays this season, compared to a -1.2 mark when he doesn't. And there's no guarantee he'll see consistent minutes the rest of the way if Kristaps Porzingis stays healthy — Bryant was a DNP-CD in Porzingis' Wizards debut on Sunday.
2021/22: $4MM
2022/23: UFA
Stock: Down ⬇️
The Hawks presumably envisioned Dieng being a regular part of the frontcourt rotation when they used part of their mid-level exception to sign him last summer. And for a while, he was.
Dieng played in 28 of Atlanta's first 33 games, but following a stint in the health and safety protocols and the emergence of Onyeka Okongwu, his role has all but disappeared. Dieng has only appeared in 12 of the team's last 30 games, logging more than eight minutes just three times during that stretch. At this point, it's hard to imagine the 32-year-old getting another offer above the minimum this summer.
2021/22: $1.78MM
2022/23: RFA
Stock: Up ⬆️
Cody's twin brother Caleb Martin has gotten more press for his breakout year in Miami, but Cody has also taken his game to another level this season. He has averaged career highs virtually across the board, putting up 8.1 PPG, 4.1 RPG, 2.5 APG, 1.3 SPG and a .465/.406/.692 shooting line while playing an important role in Charlotte's rotation.
While he's probably not in line for a massive payday, Cody has assured himself of a qualifying offer (it'll likely be worth $2.23MM) and should have some leverage to negotiate a multiyear deal with the Hornets, who won't want to lose him in unrestricted free agency in 2023.