MARCH 8: Highsmith's signing is official, the Heat announced in a press release. The team used part of its mid-level exception for the minimum-salary contract, and the second and third seasons are non-guaranteed, tweets Anthony Chiang of The Miami Herald.
---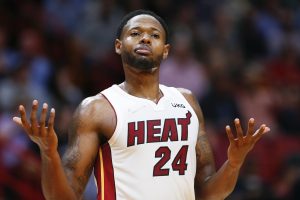 MARCH 7: Haywood Highsmith's third 10-day contract with the Heat will expire on Monday night, but the team doesn't intend to let the forward get away. Highsmith and Miami have agreed to a three-year deal, agent Jerry Dianis tells ESPN's Adrian Wojnarowski (Twitter link).
Highsmith, 25, has signed a pair of standard 10-day pacts with the Heat after initially receiving a 10-day hardship contract. He has appeared in nine games for the club, averaging 2.7 PPG and 1.6 RPG in 10.0 MPG.
While Highsmith's numbers in a small sample size at the NBA level are underwhelming, he played well in the G League earlier this season, averaging 13.6 PPG, 5.5 RPG, and 2.4 APG on .494/.393/.625 shooting in 17 games (29.8 MPG) for the Delaware Blue Coats, Philadelphia's NBAGL affiliate.
The Heat will use a portion of their mid-level exception to sign Highsmith to a deal that covers three seasons — the rest of 2021/22, plus two more years. According to Wojnarowski, the contract will include "team options," which suggests that it's not guaranteed beyond this season.
Miami has an impressive track record when it comes to signing developmental players to low-risk multiyear deals near the end of a season. During the last week of the 2018/19 campaign, the club signed Kendrick Nunn and Duncan Robinson to three-year contracts that became two of the most team-friendly deals in the league when Nunn and Robinson emerged as reliable rotation players.
Once they officially finalize their agreement with Highsmith, the Heat will have a full 15-man roster.