The Lakers have announced in a press release that they have officially signed free agent point guard D.J. Augustin and free agent power forward Wenyen Gabriel, two moves that had previously been announced as being in the works.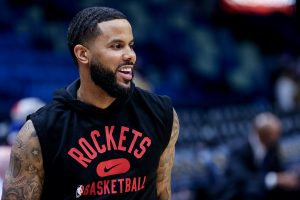 Los Angeles opted to waive reserve center DeAndre Jordan, clearing a spot for Augustin on the 15-man roster. Gabriel will replace Sekou Doumbouya on a two-way deal with the club.
The 34-year-old Augustin, most recently with the Rockets earlier this season, will provide a veteran presence backing up starting point guard Russell Westbrook. Augustin was selected with the ninth pick in the 2008 draft out of Texas, six spots behind Westbrook.
The 5'11" vet has previously suited up for the Hornets (back when they were the Bobcats), Pacers, Raptors, Bulls, Pistons, Thunder, Nuggets, Magic, and Bucks, before landing with Houston midway through the 2020/21 season. This season, Augustin averaged 5.4 PPG, 2.2 APG and 1.2 RPG across 34 games (15.0 MPG) in a reduced role for a rebuilding Rockets club.
The reeling Lakers have lost seven of their last 10 games, and currently occupy the Western Conference's ninth seed with a disappointing 27-33 record. In Augustin, they'll add a reliable bench option with a solid shooting stroke from deep. For his career, Augustin is connecting on 38% of his 3.4 three-point attempts a night. This season, he is converting 40.6% of his 2.8 looks. Westbrook, meanwhile, is making 29.2% of his 3.4 three-point tries per night.
Gabriel, 24, will be playing for his third team this season, following stints with the Nets and Clippers. Across seven NBA games this season, the 6'9″ Kentucky alum is averaging 6.7 MPG. In 10 contests this season for the Bucks' NBA G League affiliate, the Wisconsin Herd, Augustin averaged a far more robust 28.3 MPG, as well as 16.8 PPG, 8.8 RPG, 2.2 APG and 2.1 BPG.
Bobby Marks of ESPN adds (Twitter link) that Augustin will be earning a $622,467 salary through the rest of the season, with a cap hit of $393,312. That will increase the Lakers' already-significant projected luxury tax bill to $45MM.
Jordan and Doumbouya are on track to clear waivers on Thursday if they're not claimed. Both will be playoff-eligible if they join new teams. Jordan is reportedly receiving interest from the Sixers.