MARCH 28: The Pelicans have officially announced Alvarado's new deal, issuing a press release to confirm the move. The team terminated Wallace's 10-day contract early, as expected, in order to make room on the 15-man roster for Alvarado.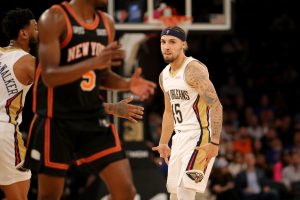 Alvarado's new contract will include a fourth-year team option, tweets Andrew Lopez of ESPN. That will give the Pelicans the opportunity to turn down that option and make Alvarado a restricted free agent in 2024, if they so choose.
---
MARCH 27: The Pelicans are converting guard Jose Alvarado from his two-way contract, signing him to a four-year, $6.5MM deal, according to Shams Charania of The Athletic (Twitter link).
The agreement will guarantee Alvarado $3.4MM over the next two years, including $1.5MM on top of the $800K he has already earned this season, according to Charania.
Those numbers appear slightly high if the deal is only worth $6.5MM in total, but it sounds like the rookie guard will at least get two fully guaranteed years followed by two minimum-salary seasons that aren't fully guaranteed.
Alvarado, 23, signed a two-way deal with New Orleans after going unselected in last year's draft following four collegiate seasons at Georgia Tech. He has played a key role in the team's backcourt this season, averaging 6.2 points, 2.8 assists and 1.3 steals in 15.3 minutes per contest entering Sunday. He has also shot 43.5% from the floor and 31.6% from behind-the-arc.
By converting Alvarado, the Pelicans will open up a two-way contract spot. The team owns the 10th-best record in the Western Conference at 31-43, leading the Spurs by one game. Promoting Alvarado to the 15-man roster also makes him eligible to play in the postseason, including the play-in game(s).
New Orleans will dip into its mid-level exception in order to ensure Alvarado makes more than the minimum salary this season and to give him four years. The team had only used $1.7MM of its $9.5MM mid-level in 2021/22 in order to sign Herbert Jones.
The Pelicans currently have a full 15-man roster, but 15th man Tyrone Wallace is on a 10-day contract that only runs through Wednesday, so he'll likely have that deal terminated a couple days early in order to accommodate Alvarado's promotion.