APRIL 11: The Lakers have informed Vogel he has been relieved of his duties, tweets Chris Haynes of Yahoo Sports. The team put out a press release formally confirming the move.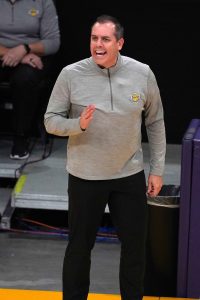 "I have a tremendous amount of respect for Frank both on and off the court," Pelinka said in a statement. "Frank is a great coach and a good man. We will forever be grateful to him for his work in guiding us to the 2019/20 NBA championship. This is an incredibly difficult decision to make, but one we feel is necessary at this point. All of us here wish Frank and his wonderful family all the best for the future."
Vogel's assistants haven't been let go at this time, tweets ESPN's Dave McMenamin.
---
APRIL 10: Frank Vogel has coached his final game for the Lakers, ESPN's Adrian Wojnarowski reports (via Twitter).
The decision – which has been viewed as a foregone conclusion for weeks, if not months – is expected to be shared with Vogel as soon as Monday, says Wojnarowski. According to Woj, the team's search for a replacement will be "lengthy and expansive," with no clear frontrunner at this point.
Asked about the report during his postgame press conference after Sunday's win over Denver, Vogel confirmed that he hasn't yet been given the official word on his ouster.
"I haven't been told s–t and I'm gonna enjoy tonight's game," he said, per Bill Oram of The Athletic (Twitter link). "… We'll deal with tomorrow tomorrow."
Formerly a head coach in Indiana and Orlando, Vogel was hired by the Lakers in 2019 to replace Luke Walton. Vogel, who appeared to be a fallback option after the club missed out on targets like Monty Williams and Tyronn Lue, only received a three-year contract, but quickly made a strong impression in Los Angeles by leading the Lakers to a title in his first season at the helm.
Vogel's second and third seasons in L.A. weren't as successful, as the Lakers dealt with more frequent injury woes. The team went 42-30 in 2020/21 and earned a playoff spot via the play-in tournament, but was dispatched in six games by Phoenix in the first round. This season, the Lakers went just 33-49 and missed out entirely on the play-in tournament.
Vogel received a contract extension prior to the 2021/22 season, but it only tacked one year onto his initial deal with the team, which wasn't exactly a ringing endorsement.
Given Los Angeles' disappointing performance this season, Vogel has spent much of the year on the hot seat. A report in January indicated that the Lakers came close to firing him at that point, when the team was at .500 (22-22). L.A. posted a disastrous record 11-27 the rest of the way, but ultimately decided to wait until after the regular season to make a change.
One recent report indicated that Jazz coach Quin Snyder and/or Sixers coach Doc Rivers could be candidates for the Lakers' coaching vacancy if they become available this offseason. Another report mentioned Michigan's Juwan Howard as a possible target. More names figure to be linked to the position once Vogel is officially let go.
LeBron James, Russell Westbrook, and Lakers VP of basketball operations Rob Pelinka are all scheduled to speak to reporters on Monday as part of the Lakers' exit interviews, tweets Dave McMenamin of ESPN. Vogel's dismissal figures to be a popular topic of conversation during that media session.