Sixers swingman Matisse Thybulle is listed as ineligible to play on the team's latest injury report and will miss Thursday's game against the Raptors, as Keith Pompey of The Philadelphia Inquirer relays (via Twitter).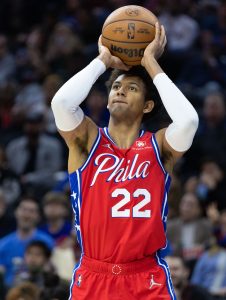 This is significant news because a report last week indicated that the Sixers might have unvaccinated players. On January 15, Canada implemented a rule barring unvaccinated players from entering the country.
If the Sixers face the Raptors in the playoffs, any Philly players who haven't been vaccinated against COVID-19 would be ineligible to cross the border to play in Toronto. Based on the injury report, the lone player impacted appears to be Thybulle.
Philadelphia is currently the No. 4 seed in the East and Toronto is the No. 5 seed, so as of right now they would meet in the first round of the playoffs, but that could change with three games remaining. The Sixers are in a three-way tie for the second-best record in the East at 49-30, while the Raptors hold a one-game lead on the Bulls.
As Josh Lewenberg of TSN Sports observes (via Twitter), Thybulle would presumably miss games 3, 4, and 6 (if necessary) of a playoff series if the two teams are matched up. Thybulle will forfeit Thursday's game check worth $31,006 due to being ineligible to play, tweets ESPN's Bobby Marks.
Thybulle is an elite defender and arguably the league's premier perimeter stopper. He earned a second-team All-Defense nod last season in just his second season despite only playing 20 minutes a game, a testament to his outsized impact. He will surely be in the conversation for another All-Defensive team honor this season.
Through 64 games this season, including 49 starts, Thybulle is averaging 5.8 points, 2.3 rebounds, 1.8 steals and 1.1 blocks in 25.4 minutes per contest. He isn't an offensive threat, but the Sixers don't need him to be with fellow starters Joel Embiid, James Harden, Tyrese Maxey and Tobias Harris more than capable of scoring plenty of points.
The Sixers close their regular season schedule at Toronto on Thursday, followed by home back-to-backs against Indiana and Detroit over the weekend.