The Pistons' rebuild took a major step forward when they lucked into the No. 1 overall pick in the 2021 NBA draft, giving them first dibs in what looked to be an exceptional pool of prospects. Detroit's choice – Cade Cunningham – didn't win this season's Rookie of the Year award, but he led all first-year players in points per game and his strong second half reinforced the Pistons' belief in his ability to be a franchise centerpiece.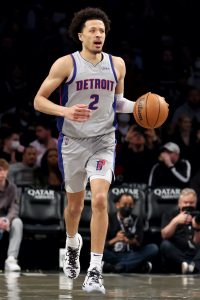 The team's front office and ownership won't want to rush the roster-building process, but after winning no more than 23 games in each of the last three seasons, they'll likely be eager to take the next step forward as soon as possible.
With Cunningham and strong secondary pieces like Saddiq Bey and Isaiah Stewart in place, the Pistons are on the right track, but some more good fortune in the lottery (they have a 52.1% chance of securing a top-four pick) would help further accelerate the team's climb back to playoff contention.
---
The Pistons' Offseason Plan:
The Pistons are one of the only NBA teams projected to have cap room available this summer, but to fully take advantage of it, they'll have to first resolve Marvin Bagley III's free agency, since his cap hold ($28MM+) far exceeds his expected salary.
After three-and-a-half relatively underwhelming seasons in Sacramento, Bagley finished the 2021/22 season strong in Detroit, unburdened by the same expectations he faced with the Kings, where he was known as the player the team drafted one spot ahead of Luka Doncic. He averaged 14.6 PPG with a career-best .555 FG% in 18 games as a Piston.
The Pistons, who reportedly liked the athleticism Bagley brought to the frontcourt and want to re-sign him to a multiyear deal, should have a good amount of leverage, given that the former No. 2 overall pick will be a restricted FA and seems unlikely to draw significant interest from many other teams. The three-year deals signed a year ago by big men Khem Birch ($20MM) and Nerlens Noel ($27MM) could be used as points of comparison.
Even after accounting for the cap hold for their lottery pick and a new deal for Bagley, the Pistons are poised to have a good deal of cap space available. The team has been linked to a wide variety of potential free agent targets, ranging from point guards (Jalen Brunson) to wings (Miles Bridges) to centers (Mitchell Robinson), but shouldn't feel compelled to spend big in free agency — that cap room could just as easily be used to accommodate trades to continue stockpiling draft picks and/or young talent.
Speaking of trades, the Pistons will face a decision this summer on Jerami Grant, who has one season left on the three-year contract he signed in 2020 and will be eligible for an extension of up to four years. Reports at the trade deadline indicated that vice chairman Arn Tellem was more open to the idea of moving Grant than general manager Troy Weaver was, but if Detroit isn't prepared to extend the veteran forward, perhaps the front office will become more united behind the idea of pursuing a trade this offseason.
A handful of option decisions will impact how the Pistons fill out their bench — Cory Joseph holds a player option and would be a solid backup to Cunningham or a useful trade chip if he opts in. Detroit also has team options on four players: Hamidou Diallo, Frank Jackson, Carsen Edwards, and Luka Garza.
---
Salary Cap Situation
Note: Our salary cap figures are based on the league's latest projection ($122MM) for 2022/23.
Guaranteed Salary
Jerami Grant ($20,955,000)
Kelly Olynyk ($12,804,878)
Cade Cunningham ($10,552,800)
DeAndre Jordan ($7,827,908) — Waived.
Killian Hayes ($5,837,760)
Isaiah Stewart ($3,433,320)
Saddiq Bey ($2,959,080)
Dewayne Dedmon ($2,866,667) — Waived via stretch provision.
Saben Lee ($1,752,638)
Isaiah Livers ($1,563,518)
Zhaire Smith ($1,068,200) — Waived via stretch provision.
Braxton Key (two-way)
Total: $71,621,769

Player Options
Team Options
Hamidou Diallo ($5,200,000): Bird rights
Frank Jackson ($3,150,000): Early Bird rights
Carsen Edwards ($1,815,677): Non-Bird rights
Luka Garza ($1,563,518): Non-Bird rights
Total: $11,729,195

Non-Guaranteed Salary
Restricted Free Agents
Two-Way Free Agents
Draft Picks
No. 5 overall pick ($7,155,120)
No. 46 overall pick (no cap hold)
Total: $7,155,120
Extension-Eligible Players
Note: These are players who are either already eligible for an extension or will become eligible before the 2022/23 season begins.
Unrestricted Free Agents / Other Cap Holds
Offseason Cap Outlook

Let's assume the Pistons keep all eight players with guaranteed salaries, re-sign Bagley to a deal starting at $7MM, get the No. 3 overall pick, and bring back all five players who have options. In that scenario, the team would still have over $19MM in cap room.
If the Pistons aren't committed to picking up all their team options, their cap room could increase to $25-30MM. Of course, Joseph's option decision, Bagley's free agency, and possible trades are also wild cards that will affect that number. But if Detroit has a move in mind that requires $20MM-ish in cap space, it looks like it won't be too difficult to carve out that space.
Cap Exceptions Available
Room exception: $5,329,000 1
Footnotes
This is a projected value.
---
Salary and cap information from Basketball Insiders and RealGM was used in the creation of this post.