MAY 5: Payton's MRI yesterday revealed muscle damage on top of the fracture and ligament damage, the team announced in a tweet. He'll be reevaluated in two weeks.
---
MAY 4: Warriors guard Gary Payton II will miss three-to-five weeks due to his fractured left elbow, according to Chris Haynes of Yahoo Sports (Twitter link).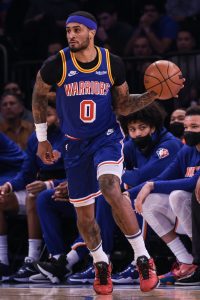 Payton's MRI revealed "slight ligament damage" in addition to the fractured elbow, tweets Shams Charania of The Athletic, who adds that the defensive stalwart hasn't ruled out a possible return later in the postseason as long as Golden State keeps advancing.
Payton suffered the injury less than three minutes into Game 2 of the team's second-round matchup with the Grizzlies after taking a hard foul from Dillon Brooks in transition — Brooks was given a Flagrant 2 for the play and ejected. Warriors head coach Steve Kerr later called the play dirty, and the league is expected to further evaluate Brooks' foul to see if it warrants a suspension.
As our JD Shaw notes (via Twitter), Payton received his first career playoff starts against Memphis in an attempt to slow down Ja Morant, who went off for 47 points and eight assists with Payton sidelined. His absence will certainly be felt by Golden State, as he's the team's best defensive guard by a significant margin.
After bouncing between the G League and the NBA in his first five seasons and never finding a consistent home or role, Payton had a terrific season for the Warriors in 2021/22, appearing in 71 games (16 starts) while averaging 7.1 points, 3.5 rebounds and 1.4 steals on .616/.358/.603 shooting. Though he averaged only 17.6 minutes per night, his impact was clear when he had opportunities, showcasing jaw-dropping athleticism, a knack for the ball, hustle, and strong defense and rebounding.
In his first six playoff games prior to the injury, the 29-year-old averaged 7.0 points, 3.5 rebounds, 1.5 assists and 1 steal on .727/.750/.667 shooting in 18 minutes. Since Golden State has great shooters like Stephen Curry, Klay Thompson and Jordan Poole, opposing teams sometimes ignored Payton offensively.
However, Kerr was creative in calling plays for Payton, who often served as a pseudo-big man on offense — catching lobs, lurking in the dunker's spot along the baseline, and opportunistically cutting to the basket. Defensively, he was frequently tasked with covering the opponent's best perimeter player.
Payton will be an unrestricted free agent this summer.