MAY 9: Brown has been officially named Sacramento's new head coach, the team announced in a press release.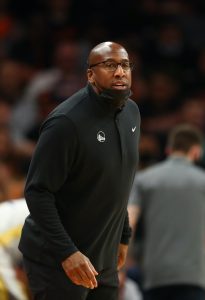 "Mike has consistently demonstrated his ability to lead winning teams throughout his long and successful coaching career," GM Monte McNair said in a statement. "He has worked with some of the best players in the NBA and is one of the league's premier defensive minds. I am excited to bring his extensive experience to Sacramento."
---
MAY 8: The Kings have agreed to hire Warriors associate head coach Mike Brown as the franchise's next head coach, according to ESPN's Adrian Wojnarowski. Brown will sign a four-year contract, Wojnarowski reports.
Brown holds head coaching experience with the Cavaliers and Lakers from 2005-14. Prior to joining Cleveland, Brown spent time with Washington, San Antonio and Indiana as an assistant for eight years.
Brown's record as an NBA head coach is 347-216 (.616), including a 272-167 (.620) mark during his first five years in Cleveland. During that stretch, he led the Cavs to eight playoff series victories, a Finals appearance, and a 42-29 playoff record.
Brown, the NBA's Coach of the Year in 2008/09, has been with Golden State as an assistant on Steve Kerr's staff since 2016, which includes title runs in 2017 and 2018.
The Kings are coming off a season where they finished 30-52, which was the fourth-worst record in the Western Conference. They currently own the longest playoff drought in NBA history at 16 straight seasons.
Sacramento was said to be seeking a defensive-minded coach who has experience turning a lottery team into a playoff club. Brown meets that criteria.
The team chose Brown over former NBA coaches Steve Clifford and Mark Jackson, who were both finalists for the position.
The Hornets and Lakers now have the only vacant head coaching jobs in the league. Brown marks the Kings' ninth head coach in the last decade.