5:33pm: Lowry is active and will start tonight, tweets Tim Reynolds of The Associated Press.
---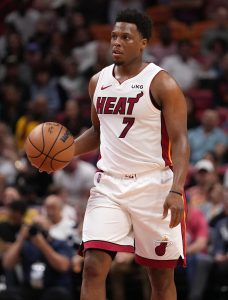 5:00pm: Heat head coach Erik Spoelstra told reporters, including Ira Winderman of The South Florida Sun Sentinel, that Kyle Lowry is nearing a return for Friday's Game 3 against the Sixers.
"The intention is for him to warm up and play," Spoelstra said.
The 36-year-old point guard has missed the team's last four playoff games after suffering a strained left hamstring in Game 3 of Miami's first-round matchup with Atlanta. Lowry had previously been listed as questionable, but barring any setbacks, it sounds like he should be available.
"Stylistically it will change things in the margins," Spoelstra said of Lowry. "But obviously he's a highly decorated, experienced, playoff-battle-tested guy. He's the guy that all season long that we turned to get us organized, particularly in the moments of truth. You need as many guys that you can available during the playoffs, that goes without saying."
Winderman adds that all of the other Heat players who were listed as questionable — Tyler Herro (ankle), P.J. Tucker (calf), Gabe Vincent (knee), Max Strus (hamstring), and Caleb Martin (ankle) — will be active on Friday.
Vincent had been starting in place of Lowry, and the team went 4-0 in his absence. If Lowry does play, he's highly likely to return to the starting lineup, as he started all 63 of his regular season games, averaging 13.4 points, 4.5 rebounds, 7.5 assists and 1.1 steals with a .440/.377/.851 shooting line.