The Suns were the NBA's most dominant team in 2021/22. Their 64 regular season wins were eight more than any other team compiled, and their +7.5 net rating ranked first in the league.
However, with Devin Booker banged up for part of their first-round series, it took the Suns six games to beat the upstart Pelicans, and they weren't exactly blowout victories — Phoenix outscored New Orleans by just nine points across those six games.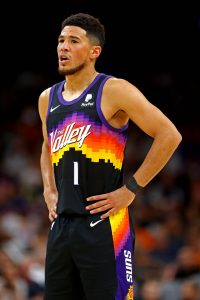 While the Suns may have looked more susceptible to a playoff upset in the first round than they did for most of the season, one crucial stat carried over to the postseason. After registering a ridiculous +33.4 net rating in "clutch" situations during the regular season, Phoenix improved that number to +35.0 in the first round.
The Suns' ability to score late in close games has been crucial all year, and could be a difference-maker as they look to make a deep playoff run. Having Booker back in the lineup will provide a huge boost as well. He missed three games with a hamstring strain, but returned to action on Thursday and has had three full days of rest before Game 1 of the team's second-round series on Monday. Assuming he's back to something resembling 100%, Phoenix will enter the Western Conference Semifinals at full strength.
The Suns' second-round opponent will be a Mavericks team that has advanced beyond round one for the first time since Luka Doncic arrived in Dallas in 2018, having defeated the Jazz in round one. Like Booker, Doncic was unavailable due to a leg injury (calf strain) for three games in the first round, but the Mavs didn't miss a beat without him, as Jalen Brunson took his game to another level by putting up 32.0 PPG and 5.3 APG in Doncic's absence.
Brunson and Doncic, both healthy and ready to go for round two, will face more resistance against Phoenix than they did against Utah's subpar perimeter defense. Defensive Player of the Year finalist Mikal Bridges has evolved into one of the league's top shutdown defenders, and he's flanked by a number of solid performers on that end, including Chris Paul and Jae Crowder. Doncic and Brunson are still capable of putting up big numbers, but they'll have to work a lot harder to do so in round two.
Although Dallas finished the season 12 games back of Phoenix in the standings, the current iteration of the team looked as dangerous as anyone during the season's final two months. From the time newly-acquired guard Spencer Dinwiddie made his Mavs debut on February 15 through the end of the regular season, no NBA team had a better record than Dallas (19-6).
The Mavs won't enter their series vs. the Suns as favorites, but they're an extremely dangerous team that should make life very difficult for the reigning Western Conference champs.
What do you think? Will the Suns make it back to the Western Conference Finals this season, or will the Mavericks pull off the upset? Vote in our poll, then head to the comment section below to weigh in with your thoughts and predictions!