Bulls star Zach LaVine will undergo arthroscopic surgery on his left knee in the coming weeks, reports Shams Charania of The Athletic (Twitter link). LaVine is expected to make a full recovery.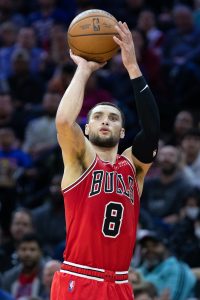 The news was anticipated, as Joe Cowley of The Chicago Sun-Times relayed at the end of April that a surgical procedure for LaVine was imminent after Chicago's season ended. The Bulls reached the playoffs for the first time since 2016/17, but fell to the Bucks in the first round. It was LaVine's first postseason appearance.
LaVine battled soreness in his left knee for most of the season. He missed 10 games in January and February while dealing with the injury and had fluid drained from his knee in early March, which is when he initially indicated that offseason surgery might be necessary.
Although LaVine said that he felt like he was still one of the best players in the NBA even at 70% or 80% of his usual self in March, a source close to the situation told Cowley that LaVine was "more like 50%, and that's on a good day," noting that the knee maintenance required to keep LaVine on the court was often an "all-day ordeal."
There's no sense that LaVine's knee problem is degenerative or that it will affect him long-term, according to Cowley, so the hope is that he'll be able to get back to his old self following the surgery. It's worth noting that arthroscopic procedures are considered minimally invasive.
The 27-year-old is an unrestricted free agent for the first time this summer. Some around the league were somewhat surprised by comments LaVine made after the season ended, saying he was looking forward to the process and would go into it "open-eyed" and "look into everything."
He was also noncommittal when asked if the Bulls were the clubhouse leaders to sign him, which has led to speculation he might join another team after it was considered a foregone conclusion that he would re-up with Chicago. Still, a new deal with the Bulls seems like the most likely outcome, given they have the ability to offer LaVine a projected $212.3MM over five years, while any other team would be limited to a max offer of $157.4MM over four years.
LaVine made the All-Star team both of the past two seasons and appeared in 67 games in 2021/22, averaging 24.4 points, 4.6 rebounds and 4.5 assists on .476/.389/.853 shooting despite dealing with the troublesome knee.