The 2021 offseason was one of change for the Celtics, who saw Danny Ainge step away from his longtime role as the team's president of basketball operations and Brad Stevens move from the sidelines to the front office to replace Ainge in that role. First-time head coach Ime Udoka was hired as Stevens' replacement, and Stevens' first major roster move was to end the Kemba Walker era in Boston, sending him to Oklahoma City with a first-round pick for Al Horford.
If you watched the Celtics during the first half of the season, you could be forgiven for questioning the wisdom of those offseason maneuvers. Boston was still below .500 halfway through the regular season, as observers second-guessed the hiring of Udoka and speculated about the possibility of breaking up star wings Jayson Tatum and Jaylen Brown.
Shortly after the season's halfway point, however, everything began to click into place. From January 22 onward, the Celtics had the best record (28-7), best offensive rating (120.2), and best defensive rating (104.8) in the NBA, storming up the Eastern Conference standings to claim the No. 2 seed.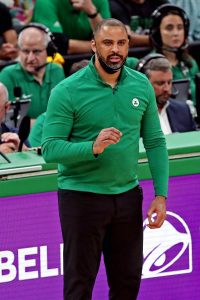 Some roster changes at the trade deadline – including essentially replacing Dennis Schröder, Josh Richardson, and Enes Freedom with Derrick White and Daniel Theis – helped matters, but the Celtics' starters also made major strides over the course of the year, working hard to build chemistry and find the right roles for each player after Marcus Smart publicly called out Tatum and Brown for their play during the first month of the season.
Impressive series wins over Brooklyn, Milwaukee, and Miami earned the Celtics a spot in the NBA Finals, but after taking a 2-1 lead, the C's ultimately came up short, falling to the Warriors in six games. While missing out on a championship was a bitter pill to swallow, the season in Boston has to be considered a huge success, given where things stood in January.
---
The Celtics' Offseason Plan:
Of the 15 players who finished the season on standard contracts with the Celtics, 12 are under contract for 2022/23. Two – Sam Hauser and Juwan Morgan – have team options on their deals, while just one – Luke Kornet – is facing unrestricted free agency. Given that those three players logged a total of 247 minutes for Boston this past season, they're unlikely to be major offseason priorities — perhaps one or two return, but not for more than the veteran's minimum.
With no key players headed for free agency and no first-round pick, the Celtics' list of pressing offseason tasks won't be as long as it was a year ago, but the team will still have some roster decisions to make.
To start, three of those 12 players under contract for next season have non-guaranteed or partially guaranteed salaries. It will be an easy call to guarantee the remaining $7MM on Horford's $26.5MM expiring deal, but Nik Stauskas and Malik Fitts, whose minimum-salary contracts are non-guaranteed, aren't locks to return.
If the Celtics were to let Kornet, Morgan, and Hauser walk in free agency and waive Stauskas and Fitts before their salaries guarantee, they'd have up to five openings on their 15-man roster, opening the door for the front office to scour the market for veterans looking to compete for a title on minimum-salary deals.
With virtually all of their playoff rotation pieces set to return, Boston may not be able to offer a significant role to any free agent targets. Still, the opportunity to join a title contender has appeal, and the team will have the taxpayer mid-level exception at its disposal if it's willing to use it — that could be a difference-maker for a veteran free agent who wouldn't have interest in a minimum deal.
Exploring the trade market in search of a rotation upgrade is one path the Celtics could go down, especially since Stevens has shown a real willingness to wheel and deal since taking the reins in the front office. Boston has made nine trades since his promotion. However, given how well the current group jelled down the stretch and in the postseason, Stevens will likely be more cautious about shaking things up this offseason.
Even if their roster for 2022/23 doesn't change much, the Celtics will have to begin considering what the team will look like beyond next season. Grant Williams is eligible for a rookie scale extension this offseason after proving in this year's playoffs that he can play a key role in big games.
A year ago, Boston signed Robert Williams to a four-year, $48MM extension (plus incentives) that looked like a roll of the dice based on Williams' injury history and track record at the time. If the Celtics are bullish on Grant Williams' developmental path and can sign him at a similarly team-friendly rate, it would make sense to once again move early to avoid the risk of him getting significantly more expensive a year from now.
Brown and Horford are also extension-eligible this offseason, but there's probably no rush to lock up either player. Brown is still two years away from free agency, while Horford just turned 36 years old. Extending a player at that age is generally an unnecessary risk, since you never know when he'll lose a step and see his value sharply drop off.
---
Salary Cap Situation
Note: Our salary cap figures are based on the league's latest projection ($122MM) for 2022/23.
Guaranteed Salary
Jayson Tatum ($30,351,780)
Jaylen Brown ($28,741,071)
Al Horford ($19,500,000) — Partial guarantee. Non-guaranteed portion noted below.
Marcus Smart ($17,207,142)
Derrick White ($16,892,857)
Robert Williams ($10,937,502)
Daniel Theis ($8,694,369)
Grant Williams ($4,306,281)
Aaron Nesmith ($3,804,360)
Payton Pritchard ($2,239,200)
Demetrius Jackson ($92,857) — Waived via stretch provision.
Total: $142,767,419

Player Options
Team Options
Non-Guaranteed Salary
Restricted Free Agents
Two-Way Free Agents
Draft Picks
No. 53 overall pick (no cap hold)
Extension-Eligible Players
Note: These are players who are either already eligible for an extension or will become eligible before the 2022/23 season begins.
Jaylen Brown (veteran)
Al Horford (veteran)
Grant Williams (rookie scale)
Unrestricted Free Agents / Other Cap Holds
Offseason Cap Outlook

After narrowly avoiding the luxury tax in 2021/22, the Celtics could theoretically try to do it again next season, but I'd be surprised if it's a major priority after the club reaped the financial benefits of an extended postseason run.
Once Horford's salary becomes guaranteed, Boston will already be at the projected tax line of $149MM for just 10 players. Even filling out the roster with minimum-salary players would put team salary well into tax territory, so ducking the tax would require at least one or two cost-cutting trades.
Cap Exceptions Available
Taxpayer mid-level exception: $6,392,000 5
Trade exception: $17,142,857
Trade exception: $6,907,815
Trade exception: $5,890,000
Trade exception: $3,804,360
Trade exception: $2,161,152
Trade exception: $1,910,860
Trade exception: $1,782,621
Trade exception: $1,669,178
Trade exception: $1,440,549
Trade exception: $500,000
Footnotes
Morgan's salary will remain non-guaranteed even if his option is exercised.
Hauser's salary will become partially guaranteed ($300K) if his option is exercised.
Stauskas' salary will become fully guaranteed after July 15.
Fitts' salary will become partially guaranteed ($50K) after September 1.
This is a projected value. The Celtics could instead have access to the full mid-level exception ($10,349,000) and bi-annual exception ($4,050,000) if they remain below the tax apron.
---
Salary and cap information from Basketball Insiders and RealGM was used in the creation of this post.