Sixers guard James Harden is declining his $47,366,760 player option for the 2022/23 season, according to Shams Charania of The Athletic. However, Harden intends to re-sign with Philadelphia on a new contract that gives the team some added cap flexibility to improve its roster in free agency, Charania adds.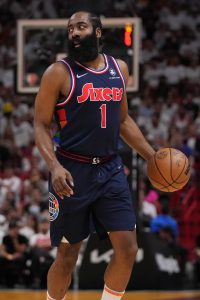 Multiple reports leading up to Harden's free agency indicated that he would likely pick up his player option and then sign a short-term extension (possibly two years) with the Sixers.
However, in recent days, there has been increasing chatter about Philadelphia using its full non-taxpayer mid-level exception, which would create a hard cap. That would have been difficult with Harden on the books for $47MM+.
If Harden returns on a new multiyear deal that starts no higher than $38MM or so, it would give the 76ers the flexibility to use both their full mid-level and the bi-annual exception, ESPN's Bobby Marks tweets.
That would clear a path for Philadelphia to make its rumored three-year, $30MM offer to P.J. Tucker using the mid-level exception. Brian Windhorst of ESPN said during an appearance on NBA Today (video link) that the Sixers have been telling agents they'll have the bi-annual exception available to use.
While Harden's willingness to negotiate a new deal with a lower starting salary will benefit the Sixers in the short term, we'll see what it means for the long term. The former MVP and the team may have reached an agreement to tack on an extra year or additional guaranteed money to his new deal in exchange for him turning down his option.
Harden, who was traded from Brooklyn to Philadelphia midway through the 2021/22 season, had a down year by his standards and was hampered by a hamstring injury. However, multiple sources tell Charania that the star guard has resumed his workout and on-court program much earlier than usual this offseason and has communicated to Sixers officials that he's focused on winning a title next year.