JUNE 29: Westbrook has officially exercised his option, according to RealGM's transactions log.
---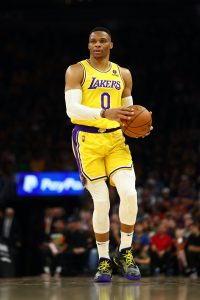 JUNE 28: Lakers point guard Russell Westbrook will exercise the player option on his contract for 2022/23, according to reports from ESPN's Adrian Wojnarowski and Chris Haynes of Yahoo Sports (Twitter links). The move, which had long been expected, will lock in Westbrook's $47,063,478 salary for next season.
Acquired by the Lakers during the 2022 offseason, Westbrook was meant to be the final piece of a Big Three that would lead L.A. back to title contention. However, as fellow stars LeBron James and Anthony Davis battled injuries, Westbrook struggled to fit in with his new team.
Westbrook's scoring average (18.5 PPG) was his lowest mark since 2009/10, and his 29.8% shooting percentage on three-point attempts was below his career rate. Although Westbrook started all 78 games he played for the Lakers, the team was more effective when he was off the court (-1.6 net rating) than when he was on it (-4.0).
Westbrook's up-and-down performance was far from the only factor in the Lakers' disappointing season, but it negatively impacted his value, making it a lock that he would opt into the final year of his maximum-salary contract rather than trying his luck on the open market.
It also makes the 33-year-old an unlikely trade candidate, since L.A. would have to attach assets and/or take on unwanted long-term contracts to move his $47MM+ salary, though the team will likely reassess its options on the trade market now that he is officially opting in.
New head coach Darvin Ham and general manager Rob Pelinka have both spoken about Westbrook returning to the Lakers next season and embracing a defense-first philosophy, suggesting that the organization is hopeful Ham can connect with Westbrook and get more out of him than former head coach Frank Vogel did.
Westbrook is now on track to reach unrestricted free agency in 2023.