The Lakers are signing Lonnie Walker to a one-year, $6.5MM deal, Damian Jones to a two-year, minimum-salary deal with a player option, and Troy Brown Jr. to a minimum deal, according reports from Shams Charania of The Athletic and Adrian Wojnarowski of ESPN (All Twitter links here). Brown's contract is for one year, tweets Dave McMenamin of ESPN.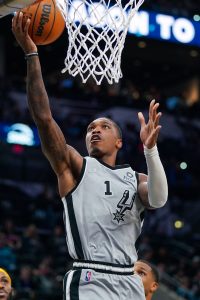 Walker, 23, was the 18th pick of the 2018 draft and spent his first four seasons with the Spurs. He's a very athletic guard and has shown glimpses of potential, but struggled with efficiency last season (.407/.314/.784 shooting line).
In 70 games (23 MPG) with San Antonio last season, Walker averaged 12.1 PPG, 2.6 RPG and 2.2 APG. The Spurs decided to withdraw his qualifying offer just before free agency opened, making him unrestricted and free to sign with any team. The move wasn't very surprising considering the Spurs were better with him off the court (+2.1 net rating) than on it (-3.0), so he'll be looking to build up his value in Los Angeles after an up-and-down tenure in San Antonio.
Jones, who turns 27 today, had a solid season with the Kings in 2021/22 after struggling to find a standard roster spot in '20/21. In 56 games this season (18.2 MPG), Jones averaged 8.1 PPG and 4.4 RPG while shooting 65.8% from the field and 71.8% from the line.
After being drafted 30th overall in 2016 by the Warriors, Jones spent his first three seasons with Golden State but struggled to find a consistent role. He's long and athletic, but was raw coming out of college. He made stops in Atlanta, Phoenix and L.A. from 2019-21 before landing with Sacramento, where he developed into a solid backup center.
Brown, 22, was the 15th pick of the 2018 draft and spent his first two-plus seasons with Washington before being traded to Chicago last year. The Bulls declined his qualifying offer after he struggled to make an impact this season, averaging 4.3 PPG and 3.1 RPG on .419/.353/.769 shooting in 66 games (16 MPG).
By using the taxpayer mid-level exception to sign Walker, the Lakers will be limited to a minimum contract for Max Christie, whom the team selected with the 35th pick of the draft last week. Christie's deal will be limited to two years, as ESPN's Bobby Marks relays (via Twitter).