In a surprise twist, the Magic have selected Duke forward Paolo Banchero with the first overall pick of the 2022 NBA draft.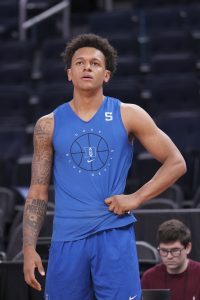 For well over a month, league insiders had predicted that Orlando favored Jabari Smith with the first pick, but obviously the Magic liked Banchero more, even though he didn't end up working out for the team after a Monday visit was reportedly canceled.
In 39 games as a freshman in this season, the 6'10" Banchero averaged 17.2 PPG, 7.8 RPG, 3.2 APG and 1.1 SPG on .478/.338/.729 shooting. He helped lead the Blue Devils to a 32-7 record and a No. 2 seed in the NCAA tournament, where they ultimately fell to long-time rival North Carolina in the Final Four.
Banchero earned numerous accolades for his stellar season, including Consensus All-America Second Team, All-ACC First Team, and ACC Rookie of the Year, among others.
The versatile big man is viewed as an outstanding shot-creator from all over the floor, capable of generating offense for both himself and teammates via post-ups and drives. He's a strong ball handler, passer, and has a great overall feel for offense.
Banchero sometimes lacks effort defensively, and he's a solid, but unspectacular shooter at the moment, but he showed throughout the NCAA tournament that he was capable of turning up the intensity when the games mattered most.
Orlando was clearly drawn by Banchero's strong tournament performances and his polished offensive skills — the Magic ranked last in the NBA in offensive rating in 2021/22, so he should help bolster that figure.