For a second straight summer, Kemba Walker is on track to be bought out. ESPN's Adrian Wojnarowski reports (via Twitter) that the Pistons and Walker are finalizing a buyout agreement that will pave the way for him to become a free agent.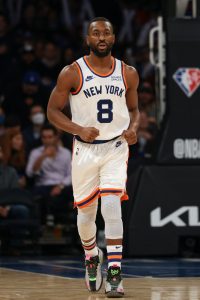 Technically, Walker isn't even a Piston yet. The Knicks have agreed to a deal that will send him to Detroit, but it's not official and likely won't be until after the July moratorium ends next week, so the veteran point guard will have to wait a little longer to officially become a free agent.
Still, if he and the Pistons have a buyout agreement in place, the team presumably won't stand in the way of him talking to potential suitors in the hopes of lining up a new deal.
Walker is under contract for $9.2MM next season. The veteran's minimum salary for a player with more than 10 years of experience projects to be just shy of $3MM, according to Bobby Marks of ESPN (Twitter link), so Walker is likely to give up roughly that amount in his buyout with Detroit.
The Pistons intend to leave Walker's dead money on their 2022/23 cap rather than stretching it across three seasons, tweets James L. Edwards III of The Athletic.
A four-time All-Star, the 32-year-old guard has been hampered by knee injuries the past two years. He appeared in 37 games for the Knicks this season, but was benched for a while in November and December and was eventually shut down in mid-February. He was limited to 25.6 minutes per night and averaged 11.6 points, 3.0 rebounds and 3.5 assists.
Walker also reached a buyout with the Thunder last August after the Celtics traded him to Oklahoma City. He signed with the Knicks four days later.