JUNE 30: The trade is official, the Hawks announced in a press release.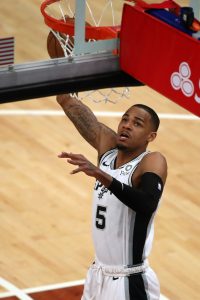 "The opportunity to acquire a player of Dejounte's caliber, just entering his prime, doesn't come along too often," Hawks president of basketball operations Travis Schlenk said in a statement. "He has developed into one of the elite two-way guards in the league and we're thrilled to add him to our group."
In addition to the pieces detailed below, Atlanta also acquired big man Jock Landale from San Antonio. As Yossi Gozlan of HoopsHype tweets, in order to complete the trade before the new league year began, the Spurs needed to add a little more salary to match Gallinari's $21.45MM incoming figure, even though it's not fully guaranteed.
According to Kirschner (Twitter link), it's not clear yet whether the Hawks plan to keep Landale, whose minimum-salary contract for 2022/23 isn't fully guaranteed.
---
JUNE 29: The Spurs have reached an agreement to trade guard Dejounte Murray to the Hawks for a package that includes Danilo Gallinari and multiple first-round picks, reports Adrian Wojnarowski of ESPN (Twitter link). San Antonio will receive three first-rounders and a draft swap, tweets Shams Charania of The Athletic.
According to Wojnarowski and Chris Kirschner of The Athletic (Twitter links), the three picks going to the Spurs will be Charlotte's 2023 first-rounder (top-16 protected) and the Hawks' own 2025 and 2027 first-rounders. San Antonio will also have the right to swap first-round selections with Atlanta in 2026.
Those 2025 and 2027 picks – along with the 2026 swap – will be unprotected, tweets John Hollinger of The Athletic.
Marc Stein first reported (via Twitter) that momentum was building toward a Murray trade, noting that the Knicks and Timberwolves were also among the guard's known suitors. Atlanta has been the team most frequently linked to Murray though, having reportedly explored deals for him dating back to February's trade deadline.
The deal represents a major backcourt upgrade for the Hawks, who will add an All-Star – and one of the league's best perimeter defenders – to complement All-NBA guard Trae Young without giving up any players from their projected 2022/23 roster.
It's not clear if trade candidate John Collins will still be in Atlanta when the '22/23 season begins, but he's not part of this deal after having being included in earlier Murray-related rumors.
Murray enjoyed a breakout season in 2021/22, averaging 21.1 PPG, 9.2 APG, 8.3 RPG, and a league-leading 2.0 SPG with a shooting line of .462/.327/.794 in 68 games (34.8 MPG). The 25-year-old was the runner-up for the Most Improved Player award.
Murray's ability and versatility on defense make him an ideal backcourt partner for Young, who is said to be "ecstatic" about the move, according to Chris Haynes of Yahoo Sports (Twitter link). Murray is under contract for the next two seasons and is owed just over $34MM during that time.
The Spurs' motives for making the deal are a little less obvious than the Hawks', since it's not as if Murray was on an entirely different timeline than the team's young core, but perhaps he wasn't part of the club's plans beyond his current contract. San Antonio's decision to accept a package heavy on distant draft picks rather than current players signals that short-term contention probably isn't in the cards as the front office looks toward the future.
The Hornets' 2023 pick will be lottery-protected in 2024 and 2025 if it doesn't convey next year, then would turn into two second-round picks if it hasn't conveyed by that point. The Hawks' own picks – and the 2026 swap – could be more significantly more valuable, especially if the team takes a downturn within the next few years.
Gallinari's $21.45MM salary had only been partially guaranteed for $5MM and was set to become fully guaranteed if he remained under contract through today.
The veteran forward probably isn't in the Spurs' plans at that full $21.45MM figure, so the most likely outcome is that he'll have his partial guarantee increased by another $6MM-ish in order to legally match Murray's salary, then will be waived. Gallinari may agree to push back his salary guarantee date in order to give the teams time to complete the trade and ensure that he receives that extra money, though that's just my speculation at this point.