The Warriors returned to the mountaintop on Thursday, closing out the Celtics in Game 6 of the Finals to secure their fourth championship since 2015.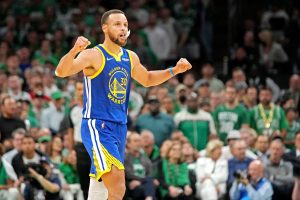 Stephen Curry, a two-time Most Valuable Player, secured his first Finals MVP award with another clutch performance. He racked up 34 points, seven rebounds and seven assists in Game 6.
Curry's 43-point outburst in Game 4 in Boston was a series changer. He received all 11 votes from a media panel, according to the NBA (Twitter link).
Kevin Durant was awarded the Finals MVP in Golden State's last two runs in 2017 and 2018. Andre Iguodala was chosen in 2015.
Draymond Green and Klay Thompson also added a fourth championship to their résumés, as did head coach Steve Kerr (also a five-time champ as a player). Andrew Wiggins delivered stellar contributions, particularly on the defensive end, and Jordan Poole had some big offensive games after his breakout regular season.
All of those players are under contract for next season, though the Warriors have some key free agent decisions to make. Kevon Looney, Otto Porter Jr., Nemanja Bjelica and Gary Payton II will all be unrestricted free agents. However, Golden State's younger players — James Wiseman, Jonathan Kuminga and Moses Moody — figure to play bigger roles going forward. The Warriors also own their first-round pick at No. 28.
The Celtics came up just shy of their first title since 2008. However, they figure to run it back next season with most of the same players that carried them through the rugged Eastern Conference playoffs. Jayson Tatum and Jaylen Brown will gain valuable lessons from their first Finals experience and it will surprise no one if they lead another Boston team to the Finals in the near future.
All of their rotation players are under contract for next season, though the Celtics may make some tweaks, particularly in the backcourt. Boston, which projects to be a luxury tax team, traded away its first-round pick to San Antonio.
With the Finals decided, the offseason is officially underway. The June 23 draft is just a week away, with free agency beginning the following week.