Collin Sexton has received a multiyear contract offer from the Cavaliers, but the two sides remain at an impasse that doesn't appear likely to be resolved soon, Chris Fedor of Cleveland.com said on The Wine & Gold Talk Podcast.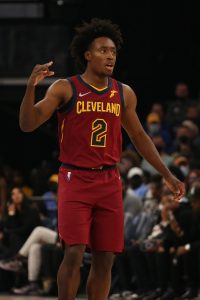 Cleveland's offer is close to $40MM over three seasons, according to Fedor. While Sexton is hoping for more — and reportedly sought "starting guard money" when free agency began — the process hasn't gone his way. The potential suitors that Sexton's representatives targeted "vanished quickly, especially during the NBA draft," Fedor said.
The Spurs and Pacers are the only teams that currently have sufficient cap room to make Sexton the type of offer he wants without a sign-and-trade, and neither team has shown an inclination to pursue him. Fedor states that Sexton needs "something to happen around the NBA to change the status quo," such as a trade involving Kevin Durant, Kyrie Irving or Donovan Mitchell. Fedor suggests any of those deals could have a "domino effect" that would result in other teams increasing their interest in Sexton.
Sexton's camp is content to see if the market changes, Fedor adds, but the Cavaliers "aren't going to bid against themselves" as they wait to see how the situation plays out. The team would like to bring him back but isn't willing to go into luxury tax territory. Cleveland is currently about $15MM below the projected tax line.
If Sexton doesn't want to commit to a long-term deal that he believes is below his market value, he can accept the Cavs' qualifying offer of $7,228,448 and become an unrestricted free agent next summer. He could have been eligible for an $8,559,357 QO, but he didn't meet the starter criteria because a torn meniscus limited him to 11 games last season. Sexton has an October 1 deadline to decide on the qualifying offer, although he and the team can agree to push back that deadline, Fedor tweets.
Fedor also notes that the uncertainty surrounding Sexton affects the Cavaliers' potential extension talks with Caris LeVert, who is entering the final season of his current contract. Locking up LeVert, who was acquired from the Pacers in a February trade, becomes less of a priority if Sexton is signed to a long-term deal.