JULY 18: The Suns have officially re-signed Ayton, Duane Rankin of the Arizona Republic tweets via a team press release.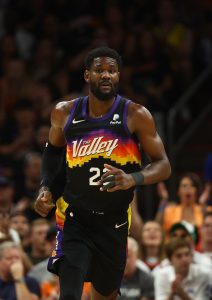 "Deandre is a force at both ends of the floor, who has elevated his game every year and will continue to do so," GM James Jones said in a statement. "DA is so important to what we do and without him we could not have reached our recent levels of success."
---
JULY 14, 7:28pm: The Suns have indeed opted to match the Pacers' offer sheet for Ayton, tweets Shams Charania of The Athletic. Ayton's four-year deal is fully guaranteed, according to Bobby Marks of ESPN (YouTube video link).
As detailed below, Ayton is now ineligible to be traded until January 15, and will possess veto power over any trade after that until next July.
With the new Ayton deal on their books, the Suns are facing a projected $32MM tax penalty for the 2022/23 season, per Marks (via Twitter).
---
7:10pm: Ayton has now signed his offer sheet with the Pacers, starting the clock for the Suns to match, Woj reports (via Twitter).
---
2:54pm: The Suns haven't shown any inclination to work out a sign-and-trade with Indiana for Ayton, but they are expected to match the offer sheet once Ayton signs it, sources tell Wojnarowski (Twitter link).
---
2:02pm: The Pacers are signing restricted free agent Deandre Ayton to a four-year, $133MM offer sheet, his agents Nima Namakian and Bill Duffy tell ESPN's Adrian Wojnarowski.
Once Ayton inks the deal, the Suns will have 48 hours to match the largest offer sheet in league history, Wojnarowski adds. ESPN's Bobby Marks tweets that Phoenix technically has until 11:59pm ET on Saturday to match the deal.
Sign-and-trades are not permissible once an offer sheet has been signed, so a potential swap for Pacers center Myles Turner is off the table once Ayton signs the deal. As Marks notes, if the Suns match the offer sheet, Ayton will have the ability to veto any trade starting January 15, which is when he'd be trade-eligible. He also cannot be traded to Indiana for a year.
However, in a follow-up tweet, Marks says that because Ayton hasn't put pen to paper yet, the Suns and Pacers have until midnight ET to work out a possible sign-and-trade that might be mutually beneficial. What Indiana might get out of that arrangement is unclear.
John Gambadoro of Arizona Sports 98.7 FM Phoenix reports (Twitter links) that Ayton's agents had been waiting for the right moment when they thought the Suns wouldn't match an offer. The Pacers have no interest in a sign-and-trade, according to Gambadoro, who says Indiana knows the Suns don't want to give Ayton — or any other center — a max deal.
According to Wojnarowski, the Suns never made Ayton a formal offer in free agency. Ayton's agents told the team they'd be able to find a max offer, and now the Pacers are putting the Suns to the test.
As Marks observes (via Twitter), the Pacers technically can't sign Ayton without making moves to clear additional cap space. They need to clear another $4.7MM to reach Ayton's first-year starting salary of $30.9MM in 2022/23, so more maneuvers are imminent.
Marks noted in a recent appearance on 107.5 The Fan that the Pacers have multiple pathways to clear the needed cap space, as James Boyd of The Indianapolis Star relayed. Once those moves are made, they cannot be reversed if Phoenix decides to match.
Ayton, who turns 24 on July 23, was the No. 1 overall pick of the 2018 draft. In 58 games last season (29.5 MPG), the 6'11" center averaged 17.2 PPG and 10.2 RPG while shooting 63.4% from the floor and 74.6% from the line.
Ayton holds career averages of 16.3 PPG and 10.5 RPG in 236 regular season games (30.7 MPG). He was a key component of the Suns' run to the NBA Finals in '20/21, averaging 15.8 PPG, 11.8 RPG and 1.1 BPG in 22 postseason games (36.4 MPG).
An excellent finisher around the basket with a soft touch, Ayton has developed into a very solid defensive player over the past couple of years, anchoring Phoenix's third-ranked defense last season. However, some have been critical about his shortcomings, mainly that he doesn't get to the free throw line much despite a muscular frame.
The Pacers have been repeatedly linked to Ayton over the past several weeks, and clearly that interest did not wane.
If the Suns match, they project to be a taxpaying team, something owner Robert Sarver has consistently avoided during his tenure. If they don't, Myles Turner seems very likely to be headed out of Indiana.
It also complicates Phoenix's pursuit of Kevin Durant, since the Suns will lose Ayton as a possible trade chip. Even if they match the offer, as was previously noted, Ayton can't be traded until January 15 and can veto any deal for a full year.