5:00pm: Konchar's extension is now official, per NBA.com's transactions log.
---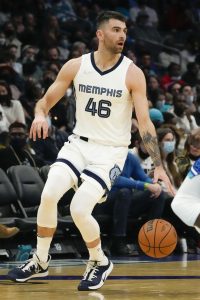 11:54am: The Grizzlies are signing John Konchar to a three-year, $19MM extension, his agent George Landberg tells ESPN's Adrian Wojnarowski (Twitter links).
According to Wojnarowski, the deal will be fully guaranteed, and Konchar will now be locked up through the next five seasons, as he still has two years left on his current contract.
As we relayed a few days ago, Konchar's $2.3MM salary for 2022/23 became guaranteed once he remained on the roster through this past Sunday. He had already been owed a partial guarantee of $840K.
Konchar, 26, went undrafted out of Purdue-Fort Wayne in 2019 after a four-year college career. As shown by Basketball Reference, Konchar is the only known former Mastodon to reach the NBA.
He was a solid role player for the Grizzlies in '21/22, averaging 4.8 PPG, 4.6 RPG, and 1.5 APG on .515/.413/.551 shooting in 72 games (17.9 MPG). An excellent rebounder for a guard, Konchar holds a career mark of 8.9 boards per 36 minutes.
In addition to his rebounding prowess, Konchar holds impressive career shooting percentages of 61.2% on twos and 40.6% on threes in 134 games (52.2% from the field overall). He's also an intelligent ball-mover and solid defender, with a career assist-to-turnover ratio of 3.3:1.
De'Anthony Melton, another backup guard, was traded to Philadelphia a couple of weeks ago, so it's possible that Konchar could have a bigger role next season. Either way, clearly the Grizzlies value his contributions, as evidenced by the fact that Konchar is under contract through '26/27.
Once the extension becomes official, Konchar won't be trade-eligible for six months.