JULY 6: The Grizzlies have officially signed Chandler, according to the transactions log at NBA.com.
---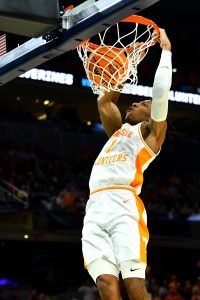 JULY 5: The Grizzlies are signing second-round pick Kennedy Chandler to a four-year, $7.1MM contract, his agent Ryan Davis tells Shams Charania of The Athletic and Stadium (Twitter link).
According to Charania, Chandler's rookie contract contains $4.94MM in guaranteed money, which is the most an American second-rounder has ever received.
A four-year, minimum-salary contract would have been worth $6.94MM, so Chandler will likely receive a little more than the minimum in his rookie season.
The Grizzlies acquired Chandler in a draft-day trade from the Spurs in exchange for the Lakers' 2024 second-round pick and cash. He was the 38th selection of the 2022 NBA draft.
Chandler was ranked 20th on ESPN's big board prior to the draft, so he slid a bit to fall into the second round. The Memphis native averaged 13.9 PPG, 3.2 RPG, 4.7 APG and 2.2 SPG on .464/.383/.606 shooting in 34 games (30.8 MPG) as a freshman for Tennessee this past season.
Although he stands just 6'0″, Chandler is an excellent athlete and has a reputation as a strong defender. The 19-year-old recorded the highest max vertical leap (41.5″) and the second-fastest shuttle run (2.89) among all participants who were tested at the NBA draft combine in May.
Chandler is a true point guard, capable of distributing and getting to his spots at a high level. He's currently starting for Memphis' Summer League squad against Philadelphia in Salt Lake City, recording six points, three rebounds, three assists, two steals and two blocks through nearly three quarters of action, per ESPN.
As Chris Herrington of The Daily Memphian observes (Twitter links), Chandler's deal is pretty similar to the contract Xavier Tillman received from the Grizzlies as the 35th pick in 2020 ($6.5MM over four years, with $4.6MM guaranteed). The Grizzlies had to use part of their mid-level exception to give Chandler a four-year deal, Herrington notes.