JULY 12: The signing is official, the team tweets.
---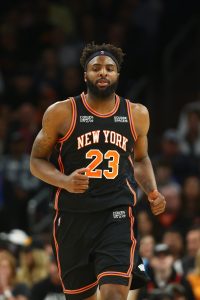 JULY 1: The Knicks are bringing back unrestricted free agent center Mitchell Robinson, according to ESPN's Adrian Wojnarowski (Twitter link), who hears from agents Thad Foucher and Joe Smith that Robinson has agreed to a four-year, $60MM deal to remain in New York.
Robinson, 24, has spent his first four NBA seasons with the Knicks after being selected 36th overall in the 2018 draft. He emerged in 2021/22 as the team's regular starting center, averaging 8.5 PPG, 8.6 RPG, and 1.8 BPG in 72 appearances (25.7 MPG), including 62 starts.
Robinson has made 72.2% of his career field goal attempts, including 76.1% in '21/22, but doesn't have an expansive offensive game, averaging just 4.8 field goal attempts per contest this past season.
The big man has conveyed some dissatisfaction with his limited offensive role in the past and didn't agree to an in-season extension with the Knicks, prompting some speculation that he could end up elsewhere once he reached the open market. However, there were a number of reasons why it made sense for New York to bring him back.
For one, at age 24, Robinson was one of this summer's youngest unrestricted free agents and still has room to grow. His athleticism and ability as a lob threat also bring a different dimension to the Knicks' frontcourt than incoming center Isaiah Hartenstein will provide. Plus, his minimum-salary cap hold gives New York the flexibility to use up its cap room before going over the cap to re-sign him using his Bird rights.
The Bulls and Pistons were among the teams said to have interest in Robinson in the weeks leading up to free agency, but Chicago went for a lower-cost center in Andre Drummond, while Detroit landed rookie Jalen Duren in a draft-night trade. The Raptors also had interest in Robinson, according to Ian Begley of SNY.tv (Twitter link), but the Knicks had been confident in recent days that they'd be able to re-sign him.
Jake Fischer first reported earlier this week that Robinson was expected to return to New York on a four-year deal worth in the neighborhood of $60MM.